American Idol auditions resumed on Wednesday night from Salt Lake City, Utah and we had some serious talent from the Crossroads of the West! The American Idol judges had to deal with a few bad eggs, but most of the night it was just one great singer after another. A few of them, however, stood out far above the rest.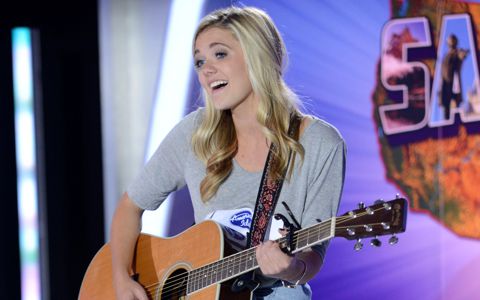 Our first favorite of the night from Salt Lake City was 16 year old Kenzie Hall. We loved her bright personality, gorgeous tone and sweet vocals. As Jennifer Lopez said, she just has "everything going on."
Briston Maroney, also 15, was one of the standout guys of the evening, in our opinion. He has a very unique and interesting voice, one we haven't really heard much like before. While we think his vocal style might get on the nerves eventually unless he can show more versatility, for now we're impressed.
We give props to Emily Rottler, who had one of the most simply lovely voices of the evening, although we feel she didn't quite have that whole 'it' factor going on. Her voice may be a bit too generic to get her very far in the competition, but her audition was one of the best girls of the night.
We generally try to ignore the sob stories when considering the contestants, preferring to focus on their talent instead. So when we put Paisley Van Patten on our best of list from Salt Lake City, it's really all about her voice, not her background. She really does have a strong, powerful voice and we hope she makes the most of her second chance.
Probably our favorite guy of the night was 20 year old Alex Preston, who dared to sing an original song for the American Idol judges. Not only was his voice fabulous, but his songwriting and guitar playing skills were also stellar. We see big things for this guy ahead in the competition.
Honorable mentions go to lumberjack Kylee Adamson, Keith Sanders, and Laurel Wright. None of them got much air time, but from what we heard, they all had some lovely qualities. Oh, and Jessica Bassett, who we thought the judges absolutely should have given a ticket to Hollywood and didn't. You be the judge on that one: