American Idol 2014 finalist Alex Preston shares his name with several other musicians around the world (including some guy in Australia), so it was a bit confusing when trying to track down info on him at the start of the season. Although his full name is Alex Preston Philbrick, he seems to prefer to drop the last name lately, even though it would make him easier to identify as the right singer you are looking for!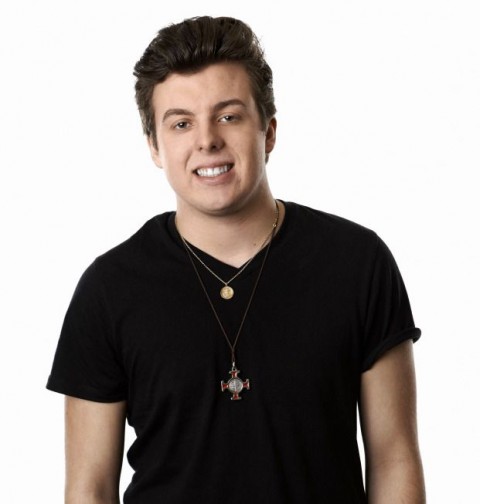 Facebook | Twitter | YouTube | Fan Page | Idol Fan Page
Whichever moniker he prefers to go by, Alex made a name for himself on American Idol 2014 with his unique vocal style and strong musicianship. Alex isn't just a guy who can sing, he's a well-rounded artist who looks as much at home on stage as off. Which is probably why he made it all the way to the American Idol 2014 Top 3!
A new fan base isn't the only thing Alex found during his time on American Idol season 13. He also walked away with a new girlfriend, fellow American Idol finalist Jillian Jensen!
Alex Preston American Idol Performances
Season 13 Audition:
Road to Hollywood:
Hollywood Week – Solo
Hollywood Week – Final Judgement
Semifinals Rush Week:
Top 13 Performance:
Top 12 Performance:
Top 11 Performance:
Top 10 Performance:
Top 9 Performance:
Top 8 Performance:
Top 8 Duet With Jena Irene:
Top 8 (Redux) Performance:
Top  8 (Redux) Duet With Sam Woolf:
Top 7 Performance:
Top 7 Duet With Sam Woolf:
Top 6 Performances:
Top 5 Performances:
Top 5 Triple With Jena Irene and Sam Woolf:
Top 4 Performances:
Top 3 Performances:
Top 3 Results Show Final Performance:
Alex Preston Background
Before venturing off as a solo artist, Alex Preston Philbrick — then going by the name of Alex Philbrick — was a member of a band called Undertow with Tucker Brown, Josh Brackett, and Dustin Newhouse. You can check out one of their songs here. They were apparently together for at least three years and won first place in the Berklee College of Music "Band Slam" in 2011.
One of the Berklee professors said at the time that if they kept playing they "could really take over the world with this music," according to Radio 92.9. Unfortunately, it appears they split up at some point shortly after.
Alex was also apparently in another student group, called The Sam King Band, for a brief time back in 2012. They were good enough to garner a write up by a local paper and apparently had a loyal and growing fan base. At some point that band also seems to have fallen apart, leaving Alex to launch himself out there all on his own.
Alex Preston is willing to go to great lengths to pursue his music career, including moving from New Hampshire to Nashville to go after his dream of becoming a recording artist. He can still be found playing around his old stomping grounds as well, however, since he appears to currently be studying at the University of New Hampshire when he's not in Nashville.
In fact, Alex won a big contest back in New England last year. As the winner of the 15 Seconds of Fame competition, Alex got the chance to be an opening act at the 104.1 Mixfest featuring Backstreet Boys, Monsters and Men, and Gavin DeGraw.
According to The New Hampshire Online, Alex began playing the violin at age five and his musical interests just expanded from there. Everything came together back on September 14, 2013 when he got the chance to perform in front of 50,000 people at the DCR Memorial Hatch Shell in Boston for MixFest. Alex was reportedly a big hit, even impressing Gavin DeGraw enough to give him a personal congratulations on his performance.
On his Facebook fan page, Alex says his "music is kind of like paint, and I play in the hopes that people will paint their own piece of art in their mind." Not just a singer, Alex has penned over 100 songs as well, including the song "The Light Was Already Here," which was his winning performance for the 15 Seconds of Fame contest.
After appearing at MixFest, Alex said he was approached by a lot of labels and radio stations, but wanted to take his time to decide what to do next. "Don't sign anything [without someone else looking it over," Alex said. "That's the best piece of advice I've gotten."
Deciding to move to Nashville was apparently a great move for Alex, who may be one of the most independently successful artists to audition for American Idol 2014. His accomplishments as an indie musician include working with the Disney Channel band Allstar Weekend, and co-written songs with country singer Jo Dee Messina and the Disney Channel's Aria Summer.
Currently Alex is on a break from college, but told The New Hampshire Online he plans on returning to the University of New Hampshire in the Spring.