The first round of American Idol 2014 auditions in Omaha took place back on August 11 with over 4,000 hopefuls showing up with dreams of making it big. Only 75 singers were invited back this week to perform in front of American Idol judges Jennifer Lopez, Keith Urban and Harry Connick Jr. Although less than a hundred applicants made it through to the judges' auditions in Omaha, there are apparently several contenders to make it to the Top Ten this season.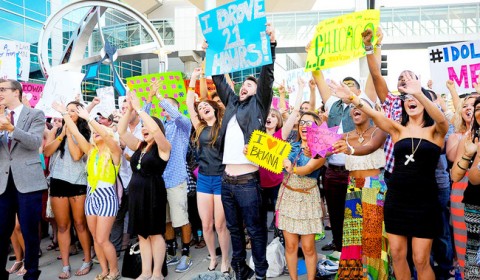 "I wasn't expecting this kind of talent, so if it keeps going like this we are going to find a lot of talent in Omaha," Harry Connick Jr. told Fox 42. The American Idol 2014 judges aren't taking it easy on the contestants this year either. They are on the hunt for a true "superstar" for season 13, "not just good but great — excellent," Ryan Seacrest told the World-Herald.
http://youtu.be/staQJ9BUW8w
Judge Keith Urban says this time around it isn't just about having great pipes, it's about the total package. "They might have an okay voice, but collectively if they are an artist, that's what I'm looking for," Urban said, according to the World-Herald. "The great thing is when someone really has 'it,' we really respond to it… It's not really about genre. It's about…" Jennifer Lopez continued, "Just being good."
"It's what I'm feeling for — that thing where I just go, I'm captivated by this performance. And like Harry (fellow judge Harry Connick Jr.) says, there's so many things that can do that. It could be the voice. It could be the look. It could be the style, could be the sound, could be the tone, could be song choice — who knows," Urban told Siouxland News.
While they were in town, some the American Idol judges took a break from work to enjoy a bit of what the city had to offer. Keith Urban had a "great" steak at Johnny's Cafe. Harry Connick Jr. said he loved Omaha because "the people are great." Apparently, everything about Omaha is just "great!"
Check out photos from the Omaha auditions below! (Click the pics for bigger versions or to scroll through.)