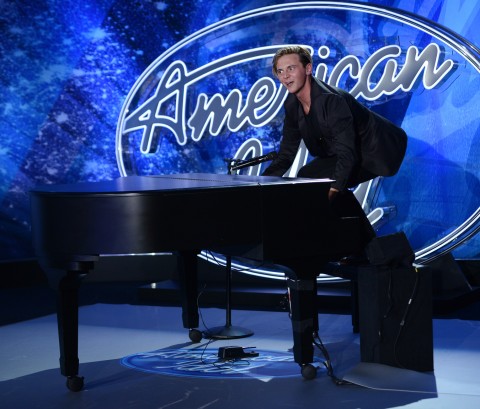 We didn't get a lot of American Idol 2015 performers during last night's Idol stop in Minnesota, but there were still some standouts from the unusually small batch. Let's take a look.
Shannon Berthiaume, "House of the Rising Sun." She's never really performed in front of people. But she didn't really act too nervous. I didn't love the performance, but the judges seemed to. I thought it was kind of shouty and all over the place. But I must say I think she'll be great with a band. So I'm glad she made it through.
Vanessa Andrea, "Some Kind of Wonderful." Vanessa is clearly very emotional, so that could make her a deep and connected performer, but let's hope there's some stability there. Her audition was pretty solid, though, and the judges gave her three yeses to Hollywood.
Zach Johnson, "Don't Close Your Eyes." I think this guy had a pretty solid audition, but I think maybe he could rule at karaoke, but I don't know about American Idol. He does have a nice spirit but that fake twang is a bit much.. He gets his golden ticket anyway.
Aaron Bissell, (He didn't sing enough to even pick up what the song was). But what a great guy. He has this sweet look and this unique sound. I think he's a natural. And Harry just jumped up and gave him a golden ticket.
Cindy Jo Scholer, "Crazy." Harry's doing his whole condescending thing that he does to girls about how she's dressed. Sorry, just had to slip that in there. Her audition wasn't bad, but I don't know if she's right for the show. Jennifer says no. Keith says yes and so does Harry. So she's Hollywood-bound.
Jacob Tolliver, "Whole Lotta Shakin." OK, this guy is a genius. OK, so MAYBE he's a better pianist than he is a singer, but he's one helluva performer. So yes, please. Hollywood Week. Go. Now. Luckily the judges said yes. But not until they berated him for acting like Jerry Lee Lewis.
Hannah Mrozak, "Something's Got A Hold On Me." Hannah wasn't too bad. I think she looked a little silly. Like I felt weird watching her. But her voice is very solid. Especially for 16. The judges gave her three very easy yeses.
Mark Andrew, "Soulshine." I love this guy's voice. He's easily the best audition of the night. He's so effortless and smooth. And then he goes into the song from "The Jungle Book" and that was even better. That was fun and creative and just great. The judges loved it, too, so he's off to Hollywood.
What did you think of the Minnesota auditions? Who were your favorites?