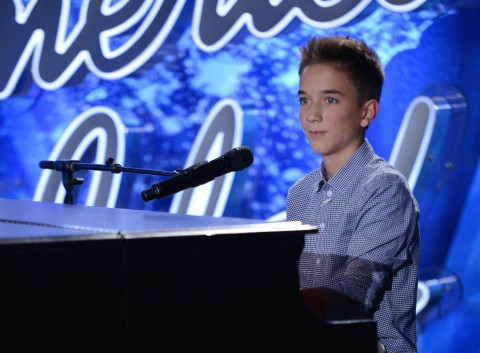 The American Idol 2015 auditions wrapped up Thursday night with the final stop in San Francisco, and I must say, some of the best auditions were saved for last.
After the past couple audition rounds I was getting a little worried, but the talent was strong from San Francisco and I'm ready for Hollywood Week next week! But first, let's take a look at the standouts from the final round of auditions.
Adanna Duru, "You And I." I had to watch this audition twice because the first time I didn't take notes because I was too into her audition. I was just so mesmerized. I loved, loved, loved it. I liked the tone, the control, the emotion (despite what Harry was saying). Love it. And I'm happy the judges liked her too. She's heading to Hollywood.
Christopher Michael, (original song). OK, this guy is a standout for a different reason. As in he's scary. And a little crazy. And yeah. I was ready to run if they even considered sending him to Hollywood. Luckily they didn't.
Hunter Larson, "That's Life." I wasn't sure how this girl was going to be. I thought we were being set up for another wack job. But it turns out this wack job can actually sing pretty well. She's got a great gritty tone and I'd like to hear more from her. The judges do as well. She gets three yeses to the Hollywood round.
Tara Honda. We only got a condensed look at her audition, but it was a lot of fun and the judges loved her. I don't have much more to say, though, because it was cut short. She moves on to Hollywood.
Daniel Seavey, "Hallelujah." Well that kid is adorable. And apparently a musical genius. But there's something not right with his voice. Maybe it's puberty. I mean he's only 15. And for just two weeks. He was better on his second song, however. It seems like he was actually just really nervous. I think I'd be afraid to send him through because he's so young. But Keith and Jennifer decide to give him a chance. He's off to Hollywood.
Rocky Peter, "Wrong Girl." I didn't expect this guy to have that voice. It was smooth and easy to listen to and then he went into a falsetto a few times that was a little out there, but it was overall pretty solid. I like him, but I'm not totally sure American Idol is right for him. Great original song, though. Despite Keith agreeing with me about whether or not Idol is right for him, he still gets all yeses. He's moving on to Hollywood.
Jaq Mackenzie. Another original song, but not a great song. And I don't know about her vocals, either, but I think I'm supposed to like it, so let me talk about it some. Wait, no I don't like it. Never mind. But the judges saw something I didn't. She squeaks by to Hollywood.
Tyanna Jones, "Wings." Did American Idol save the best for very last? Maybe. But what is for sure is that this girl was born to sing and perform. She commanded that audition stage more than anyone else has all season. Her vocals are great, she's got a great range and she's seriously on the edge of stardom. She easily gets through to Hollywood.
What did you think of the final night of auditions? Who were your favorites?