Final round of auditions are here for American Idol 2015 as the Judges prepare for one last chance at handing out the Golden Tickets before they move on to Hollywood Week.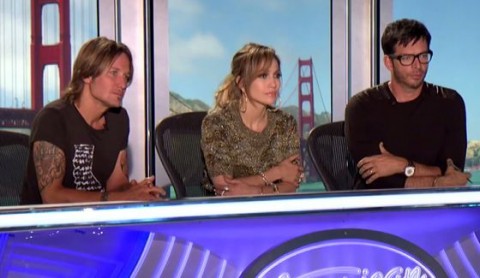 After last night's mix of talent from the Bay Area I think we're all hoping for a stronger finish with more talent like Rayvon Owen and Maddy Hudson. Okay, west coast, don't let us down with the final installment of American Idol auditions!
Our live coverage of tonight's show will continue throughout with results, Judges' commentary, and performance videos for each of the Hopefuls who make it in front of Keith, Jennifer, and Harry. There's even more Idol talk now in our Chat Room.
We're off to a weird start thanks to #IdolBooty, "butt" thankfully Jennifer shuts it down quickly with a No vote and Harry eases us in with some piano that gets the cheers rolling.
First audition of the night is with Adanna Duru singing "You and I." Adanna has been singing ever since she was little and admits she thoroughly annoyed her brothers every step of the way. She's got a great, powerful voice and should definitely expect a Golden Ticket.
Jennifer says Adanna Duru is "what we call the full package" and really likes her performance. Harry agrees and says he really liked it along with a compliment on her good looks. He does caution her to study the lyrics and make sure she knows what the lyrics are really about at her young age of 17. Three Yes votes and she's off to Hollywood.
In a dramatic shift we have Christopher Michael who channeled his stress for an original song and oh boy. Harry is so inspired by Christopher's rage that he picks his chair up and tosses it.
Keith says he loved the passion, but "that's it." Harry says he moved him, but there wasn't anything else. Christopher offers to sing another song, but Keith cuts him off there. All three judges agree it's a No for them.
Bringing it down a rage-notch we've got Hunter Larsen, who is looking to escape her three jobs through her music. She's singing "That's Life" and it's a wonderful performance with a great voice.
Jennifer says she's really interesting and has a gritty tone that sets her apart from the rest. Keith says it was really good and it was an immediate thing for them. Harry brings out the Golden Ticket and she's off to Hollywood.
Back from the break we've got Tara Honda with "I Feel The Earth Move" and her a strong stage presence with her confidence. The Judges stop her and they're impressed.
Jennifer says she made her want to sing along. Harry says he would buy a new version of her singing that old song. JLo says Tara has the soul of an artist. Keith agrees that she's a great singer and out comes the Golden Ticket.
Daniel Seavey is up next and Harry jokes that it's taken them longer to make his latte than Daniel has been alive at just 15 years old. Daniel comes well stocked in musical instruments as he plays the piano and sings "Hallelujah." He's got potential, but I don't think he's ready though I think we all know the Judges will disagree.
Keith asks Daniel Seavey to perform something for them on the guitar next and he goes to Paula Abdul's "Straight Up." Jennifer says she can tell he's very nervous, but she thinks the voice is in there. Harry doesn't think he's ready and votes No. Keith says Hollywood is the place for a second chance so he goes with Yes. It's down to Jennifer and she says Yes.
We get to meet Rocky Peter who was born in the US, but sent back to Nigeria by his father and faced a lot of hardships along the way to get back to this place in life. He's singing an original song called "Wrong Places."
Harry praises Rocky for his delivery and says it was a very smart and well done song and performance. Jennifer says she could hear both how beautiful his voice is and the pain behind it. Keith is worried that Idol won't be compatible for Rocky, but thinks he has a beautiful voice and gives him a Yes. Jennifer and Harry both say Yes.
For a little intermission we get a series of audition fails followed by Harry Connick Jr. playing around and see how high he can get his voice. It's pretty silly and has everyone in the room laughing away.
Jaq Mackenzie follows up Harry's performance with an original song after she sets down the guitar she carried in around her neck.
Jennifer says Jaq has the makings of a really great artist and has the potential, but she's not sure how well it would hold up down the line. Harry is worried that Hollywood might negatively impact her musical development, but can tell she takes her music very seriously. Keith says she has a very distinct singing style as an "artist in the making." It's three Yes votes for Jaq Mackenzie.
Here comes Tyanna Jones, a middle child with a fun spirit and a back story that shows what her family has overcome. Tyanna is singing "Wings" and it's a great performance that's impressing the Judges.
Jennifer says Tyanna Jones is very talented and she thinks she's great. Keith asks what she's working on and she's trying to improve her pitch. Harry says she's extremely talented with a lot of potential. Keith says it's a "resounding Yes!" She's off to Hollywood!
Can't wait to find out what happens next? We've got your American Idol Top 24 spoilers list revealing which Golden Ticket holders survive the upcoming eliminations.
Next week Idol is ready for Hollywood Week and the upcoming Showcase at House of Blues so stick with us for even more results and updates.
Join us on Facebook, Twitter, and by Email Updates to get the latest news then we'll see you for the next American Idol!