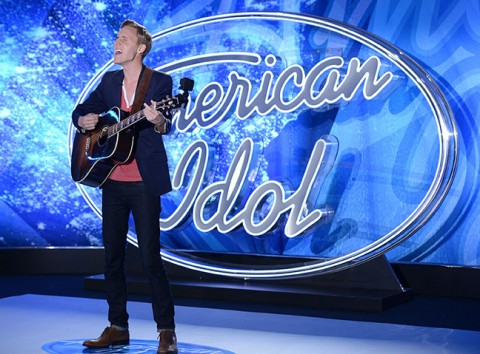 American Idol 2015 auditions continued in Nashville but headed to Kansas City on Thursday night and the judges found us another solid group of contenders for the season 14 crown.
Let's take a look at the standouts.
Kelley Kime, "Sunday Morning." Kelley has something special about her. I'm not sure what kind of range or versatility she has, but I really liked her audition. She gets her shot to show what else she can do with a golden ticket to Hollywood.
Garret Miles, "Proud Mary." This guy is incredible. I don't even want to mention he's blind because that's not a big deal. There have been some really great blind musicians. And I think this guy could be one of them. His voice is solid, his soul is strong and there's a charm there that really makes him stand out. And he's off to Hollywood.
Clark Beckham, "It's A Man's World." Another phenomenal guy. This guy is a natural. His vocals are effortless and he gets lost in his music. He didn't look at his audience much, however, so I could see him having problems connecting to his audience. But that's something easy to improve on. And the judges gave him another shot at it with a ticket to Hollywood.
Gina Venier, "Put the Gun Down." This girl is cool. She screams American Idol. From her one-woman band to her energy to her look and sound. She also sort of seems like someone who could fall apart in Hollywood. And we'll get to see. She got three yeses and is headed to Hollywood.
Alex Shier, "I See Fire." White Guy With A Guitar alert. But actually, this guy is pretty solid. He's got a great look, a good sound but he's lacking that charisma that so many of the WGWG do. His presence is lacking. But I wouldn't mind hearing him sing some more.
Cody Fry, "Somewhere Over The Rainbow." It's clear this guy was just born into music. He was born to do this and he will do this with or without American Idol. But he's good enough for American Idol, so let's put him on this season so we can see where he goes. I like this guy a lot. And that song choice for an audition took some serious balls. Loved it. He gets three yeses to Hollywood.
Sarina Joi-Crowe, "Til The Love Runs Out." Wow. The one is a firecracker. Confidence, runs, moves, presence. She's THE complete package and I can't wait to see more of her. Of course she got her ticket to Hollywood.
Savion Wright, "Change the World." Back after being cut last season, Savion has clearly learned and improved during the past year. He's so cool and smooth and is really easy to listen to and watch. And we will get to hear and see him more. He got three yeses for Hollywood week.
Jasmin Pinela, "Listen." I think she has a lot of potential, but a few times she fell flat. Luckily she used the huge part of this song to sort of bring it home. But again, I'm not sure she's ready. And the judges agreed. But there's something there and we'll probably see her again.
Lovey James, "Break Free." Not feeling this girl at all. She's the opposite of everything I want out of this season. She's recorded stuff already. Her confidence borders on arrogance. What else? She has a freaking stage name for crying out loud. Oh and she sang Ariana Grande. Ugh. Unfortunately she made it to Hollywood Week.
Jess Lamb, "Ain't No Sunshine When She's Gone." Jess has so so much talent. She has to do this for a living. She has to sing and perform and play the piano. But she doesn't need to be on American Idol. She's going to Hollywood, but won't make it much farther.