Former American Idol season 6 finalist Gina Glocksen has announced she and husband Joe Ruzicka are expecting a baby! Gina Glocksen's hubby infamously proposed to her on stage during an American Idols LIVE! Tour show in Illinois back in 2007. Fellow American Idol alums Jordin Sparks and Haley Scarnato were part of the wedding party when the two married on New Year's Eve in 2008. This will be the first child for both.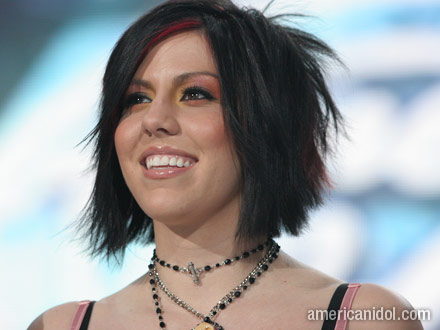 "It's so exciting!" Gina told
People.com
. Gina is currently on tour with
Ballroom With a Twist
until mid-May, which should be quite interesting dealing with morning sickness while touring! Gina is not only celebrating a new baby on the way, she's also thrilled that her mother is "doing awesome" after double bypass surgery.
Gina Glocksen originally auditioned for American Idol season 5 but failed to make it to the Top 24. After successfully making it through to the Top 12 on American Idol season 5, she was eliminated in 9th place. After American Idol, Gina briefly worked with fellow alum Constantine Maroulis on American Idol Extra for season 7 and played out around Chicago with The Gina Glocksen Band. She released a single titled "Superhero" to iTunes back in 2011.
Gina and husband Joe will celebrate their fifth wedding anniversary on New Year's Eve. The new baby is due around July 2nd, just two days before Gina's birthday. The couple plans on letting the sex of their future child stay a secret to enjoy the "ultimate surprise" of finding out when the baby is born.