Original American Idol winner Kelly Clarkson has been cast to guest star in an episode of the ABC drama Nashville. Kelly will be playing herself on Nashville Season 2, Episode 11 — "I'll Keep Climbing," scheduled to air on January 15, 2014. Interestingly enough, that also happens to be the same night as the American Idol 2014 season 13 premiere!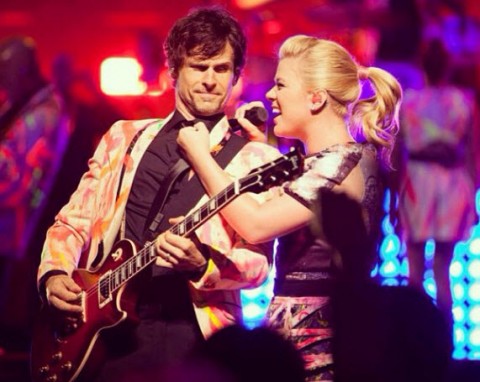 We aren't sure exactly how much of Kelly Clarkson we'll be seeing on the episode, but we do know she will reportedly be performing on the show with
Nashville
characters Scarlett O'Connor (
Clare Bowen
) and Gunnar Scott (
Sam Palladio
).
"As you recall, one of the most popular songs of last season is a song that Gunnar and Scarlett wrote — 'Fade Into You,'" showrunner Dee Johnson told TVLine. "And in fact, in real life, [Kelly's] actually cutting that song."
This isn't Kelly's first foray into network television. The original American Idol winner and Grammy Award-winning singer also guest starred on The Crazy Ones on CBS earlier this year. She received quite the rave reviews for her appearance, and we can't wait to see her conquer Nashville as well!