Former American Idol and The Voice stars went head to head in a charity checkers challenge this past weekend to raise money for ACM Lifting Lives, United Service Organizations and Disabled American Veterans.
Country music stars Kellie Pickler and Thomas Rhett teamed up with American Idol and The Voice alums such as Scotty McCreery, Cassadee Pope, and Lauren Alaina for a fundraising 'human checkers' battle.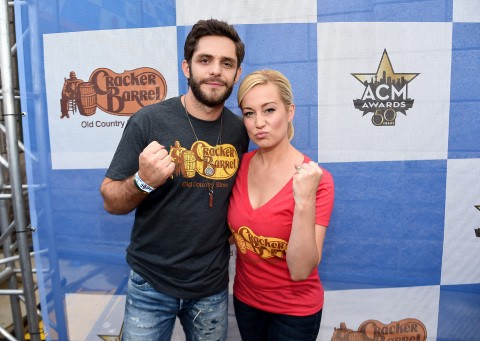 The Cracker Barrel Old Country Store Country Checkers Challenge ™ took place during the 2015 Academy of Country Music® (ACM) Party for a Cause® Festival at Globe Life Park in Arlington, TX, according to a press release.
Playing on a giant outdoor checkerboard, Kellie Pickler and Thomas Rhett captained teams of country music artists who were the "checker pieces" in a live game viewed by thousands of fans.
The artists participating in the Cracker Barrel Old Country Store Country Checkers Challenge included: Team Rhett – Rhett Akins, Dan Smyers and Shay Mooney (Dan + Shay), Danielle Bradbery, Scotty McCreery, and Cassadee Pope; and Team Pickler: Lauren Alaina, Chase Bryant, Kristian Bush, Stephen Barker Liles and Eric Gunderson (Love & Theft) and Jamie Lynn Spears.
A total of $35,000 was donated to benefit ACM Lifting Lives, $25,000 was donated to USO, and $10,000 gifted to DAV.
"This event was not about us, it was about our servicemen and servicewomen and our veterans. It's not just their sacrifices, but the sacrifices their families make, too, every day," said winning team captain Kellie Pickler. "A fun event like this reminds us that there are so many things to be thankful for. I'm grateful for companies like Cracker Barrel, the ACMS and Lifting Lives for shining a light on the USO and DAV."
Check out photos from the event in our gallery below!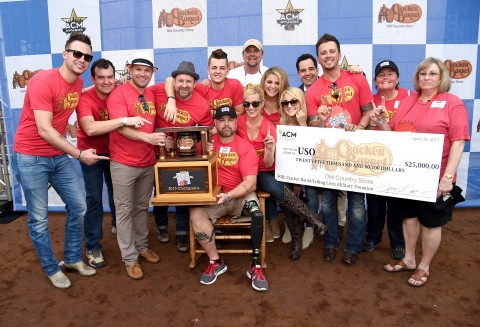 Cracker Barrel Old Country Store Country Checkers Challenge Winning Team Captained by Kellie Pickler Played for the USO (Photo: Business Wire)