This week the American Idol 2015 Top 6 will be taking on arena anthems (you know, the big songs by big bands that sound the best performed or played in, well, an arena?). Weird song choice for a bunch of young solo acts, but themes have never been American Idol's strong suit.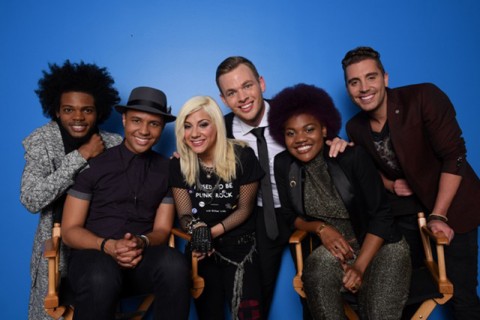 So since we don't have spoilers this week, we can finally get back to our song suggestions! So what should the Top 6 sing this week? Let's take a look.
Update: Song spoilers are here for the Top 6's Anthem picks.
Clark Beckham. "Sister Christian" by Night Ranger. I can see it now. Start out soft and slow on the piano, then ditch the stool when the song kicks into high gear. I think this would be great for Clark. He could make it his own and definitely have a moment. Other suggestion: "American Pie" by Don McLean.
Jax. Let's be super cliche and pick "We Will Rock You" as one of Jax's songs for the week. I'm very particular when it comes to Queen, so I'm just going to say that I don't think anyone other than Jax could handle a Queen song. So if this obvious choice shows up on the setlist, I hope it's from Jax. Other suggestion: The Taken By Trees version of "Sweet Child O' Mine" I've recommended before (I'll NEVER stop suggesting this song!) Of course we hear Light My Fire by the Doors is a song so since Jax's songs always leak, I'm guessing that one is hers.
Tyanna Jones. "Respect" by Aretha Franklin is an easy choice for Tyanna. But let me think on this … She just did Tina Turner or I'd suggest "Simply the Best." OK, I'm going to go with "Hit Me With Your Best Shot" by Pat Benatar. Other suggestion: "I Love Rock n' Roll" by Joan Jett.
Nick Fradiani. "Carry on Wayward Son" by Kansas. I think this is a great choice for Nick because it has some soft moments and then a lot of rock-out moments. I hope most of these songs are kept very upbeat and energetic because if they slow them down for unique purposes, that will be pretty lame. Other Suggestion: "Born in the USA."
Quentin Alexander. "Born to Be Wild" by Steppenwolf, obviously. I think this is such an obvious pick for Quentin that if he doesn't pick it, it'll just be dumb. Other suggestion: "Living in America' by James Brown.
Rayvon Owen. "Mony Mony" by Billy Joel. I'm not sure why I think this would be good for Rayvon, but I kind of do. It might not be a very singy song, though, so maybe something a littler more substantial like "Jumpin Jack Flash" by the Rolling Stones would be better. Other suggestion: "Rock n Roll Fantasy" by Bad Company.
What songs would you like to hear the Top 6 perform?