Whichever finalist walks away as the American Idol winner for 2014 will already have at least one sweet gig to look forward to. The winner of American Idol season 13 has already been scheduled to play at the National Memorial Day Concert in Washington D. C. on May 26.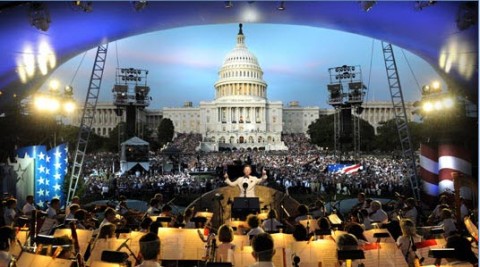 Organizers for the concert announced Tuesday that the American Idol 2014 winner will join a long lineup of singers for the event, which will take place on the Capitol lawn and be televised on PBS.
Sugarland singer Jennifer Nettles will perform in a special musical tribute during the National Memorial Day Concert to honor returning veterans from Afghanistan, who will join her on stage.
Other artists scheduled to perform include The Voice 2013 winner Danielle Bradbery, Broadway and Smash star Megan Hilty, Jackie Evancho, and Anthony Kearns. Actor Gerald McRaney and retired Army general Colin Powell will also appear at the event. The program will be hosted by Tony Award-winner Joe Mantegna and Emmy Award-winner Gary Sinise.
The concert will be aired live on PBS and via American Forces Network to the nearly one million American service men and women stationed at bases in 175 countries and 140 U.S. Navy ships at sea, as well as Department of Defense civilians and their families overseas.