Now that we know the American Idol Top 2 for season 13, the time has come to speculate on which one of them will walk away with the crown! Who will win American Idol 13 next week and be one step closer to their dreams of fame and fortune? We take a look at the Top 2 and their chances to be the next American Idol winner!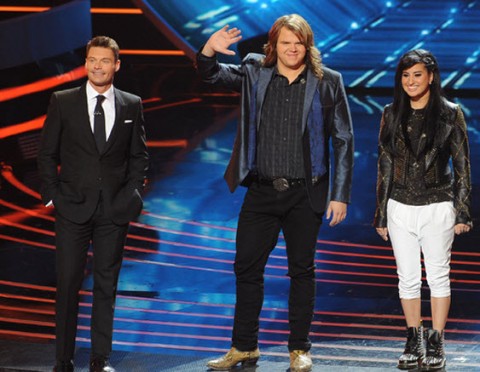 After a long night of waiting very impatiently for the votes to be announced tonight and the Top 2 to be revealed, we finally know who will be going to the American Idol finale next week. We had our prediction about who would go home tonight in the elimination results, but we were well prepared for just about anything to happen. This is a week where the unexpected often happens on American Idol!
In the end, however, we weren't totally shocked by the outcome on American Idol tonight. There had been plenty of signs that this might end up how it would all go down. For the past few weeks, the writing has kind of been on the wall about who would end up in the final two, even if fans of the singer eliminated tonight were wishing very hard for it to be otherwise.
It's all over now, however, and it's time to get on with the business of choosing an American Idol season 13 winner. Who should be the one who won American Idol 2014 when it is all said and done next week? Let's take a look at the American Idol Top 2 and who should be the one to win!
Caleb Johnson: Let's face it, Caleb has been a huge force to be reckoned with all season long. He's been a favorite to make the Top 3 practically since the finals began and he started owing the stage like a rock star. No one has been as comfortable on stage as he is. No one owns it like Caleb. When he gets up there with a band on stage, he is the front-man at his own private Caleb Johnson concert.
Plus, no one has been as consistent as Caleb either. Through it all, Caleb has rarely ever had less than a stellar night and his critiques from the judges and the press have been almost overwhelmingly positive on every song. Caleb did have some serious vocal issues this week, but he had a good reason for it. He's been hitting it so hard, he's literally injured his vocal chords. Even so, his final performance this week absolutely blew away the audience and the American Idol judges alike.
We haven't had a rocker win in a while and we'd love to see one take the crown and prove that American Idol isn't just about pop or country. Rockers still has a place in the music industry too!
Jena Irene Ascuitto: Over the past few weeks, Jena has continued to top herself over and over with even more stellar performances. She's had her rough moments this season, barely even making it to the Top 13 thanks to the American Idol judges giving her a Wild Card spot. However, she has proven time and time again that she has more to give, and she can stand up there and rock it as hard as Caleb, or deliver a sweet, sultry pop ballad with equal success.
While Caleb is an undisputed rock guru, Jena Irene has a bit more versatility and flexibility both in her style and her range. She can go from pop to rock from week to week, and sing a haunting tune behind the piano or take over the stage like a roaring banshee (in a good way). Jena may not be as consistent as Caleb, and she's certainly had some tough critiques and questionable song choices, but she is always full of surprises. Sometimes, that's the secret ingredient you need to be a winner.
Jena isn't really like any other female American Idol winner we've had yet, and that uniqueness gives her a leg up when it comes to the American Idol finale. We've had rockers, pop divas, and soulful sirens take the top prize — but Jena is kind of all three at the same time.
When it comes down to a choice between the two, however, we have to go with what the American Idol betting odds, the fan polls, and the social media results have been telling us for weeks. If you put Caleb Johnson up against Jena Irene in the finale, the rocker is going to come out on top. So we're going to place our final bet on Caleb Johnson as the American Idol winner. But we are prepared to be surprised, because it has certainly happened before!
Who do you think will be the one who won American Idol 2014? Tell us you pick for who should be the American Idol season 13 winner in our comments area below!