Not all American Idol winners are equal. Some have gone on to massive fame and fortune, while others have faded into obscurity. Will the American Idol 2014 winner, either Caleb Johnson or Jena Irene Ascuitto, become a superstar like Kelly Clarkson or Carrie Underwood? Or will they end up being names we often forget actually won the show, like Kris Allen or Lee DeWyze?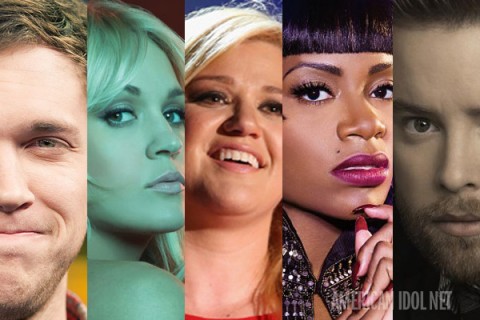 Who knows, but speaking of winners, we thought it was a good time to rank the past 12 American Idol winners. There's a lot to consider in this list: success, talent, monetary worth, etc. If you can barely even remember them as someone who won American Idol, they probably aren't going to rank very highly. So do not think this is a scientific list. It's just what one writer thinks based on evidence and opinion.
American Idol Winners List: Who Won and Where Are They Now?
12. Lee DeWyze (Season 9). Poor Lee. Fans got behind him during the 9th season, but it didn't stick after his win against Crystal Bowersox. He was dropped from his label but has since signed with a new label and released a new album. He still hasn't found the success of other Idol winners.
11. Candice Glover (Season 12). The reigning American Idol winner's success has little to be judged on. Her debut single completely flopped, especially compared to Phillip Phillips' the season before. Considering her debut album only sold  sold 19,000 copies in its first week, and is one of the worst charting releases of any American Idol winner, she's sure to hold on to this No. 11 spot for quite some time.
10. Kris Allen (Season 8). No one is still really sure how Kris won over Adam Lambert, but it happened. And we've barely heard from him since. He seems to be a great and talented guy, but he's just never caught on as a popular artist. He's still making music and still touring, however, and has recently gained a bit more attention in the national press again.
9. David Cook (Season 7). It pains me to rank David so low, but that's how it has to be. He's been one of my favorite winners based on his performances from the season. His debut album went platinum, but he hasn't held onto his popularity. He's now trying his hand in Nashville.
8. Ruben Studdard (Season 2). Ruben has had a very steady and reasonably successful career, with a recent revival thanks to his appearance on The Biggest Loser 15. However, he's never achieved the fame and fortune of other Idol winners like Carrie or Kelly, so I'm not sure what spot suits him best on this list. I think he's super talented, but he's just not going to be on the top of many favorite winner's list.
7. Taylor Hicks (Season 5). I know what you're thinking. This guy at No. 7? Well, he might not be an A-lister, but with a Las Vegas show and an Alabama restaurant on his roster, he brought in $2.5 Million in 2013. What did you do?
6. Jordin Sparks. (Season 6). Jordin's single "No Air" was highly successful and she starred in the movie Sparkle alongside Whitney Houston. Her success comes and goes, but overall, she stays about middle of the pack. However, if she keeps working hard, and keeps getting acting jobs as well as singing, like her recent Law and Order gig, she might finally drag herself further up the list.
5. Scotty McCreery (Season 10). The teen country crooner is still working on college, but he brought in $3 Million last year from album and concert sales. He seems to have some staying power.
4. Fantasia Barrino (Season 3). From her albums to her Broadway role in The Color Purple, Fantasia has had a solid and steady career. Despite some past financial woes, Forbes listed her at No. 8 last year with $1.5 Million. Her recent success in another Broadyway production, After Midnight, just solidifies her staying power.
3. Phillip Phillips (Season 11). The soft-spoken "white guy with a guitar" has seen some of the most success in years. His winning single "Home" has gone multi-platinum and has been used everywhere form the Olympics to movie trailers. Forbes ranked him third among American Idol alums last year with $5 Million in record and concert sales.
2. Carrie Underwood (Season 4). The top two spots get tricky. Carrie Underwood's 2013 worth was $31 Million compared to Kelly Clarkson's $7 Million. But Kelly is a superstar that crosses multiple genres. Carrie is all country, so that's why she barely gets nudged out of the No. 1 spot.
1. Kelly Clarkson (Season 1). The original will always be the best. Kelly has been hugely successful and there's no end of that in sight. She's a global superstar and I don't see any new American Idol winners ever coming close to her success.
Where do you think the American Idol 2014 winner will rank five years from now?