We are down to the last few days of American Idol 2014 with just one performance and a results show left to crown the new winner of American Idol! Let's see how you, the readers here, have ranked the remaining finalists.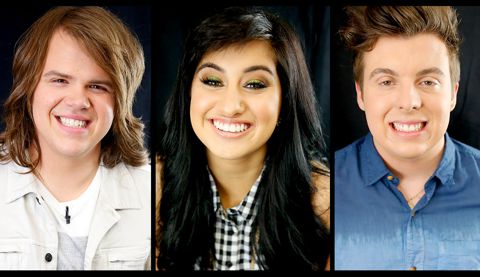 There was quite a shuffle last week in our "who was the best?" performance polling. Through the night's performance show we saw Jena Irene go from last in our poll to the lead while Caleb Johnson fell to third place. Of course the actual results were different with Alex Preston eliminated while Caleb and Jena Irene moved on with little surprise which leaves us with the season's most frequent front runners in our polling.
American Idol 2014 Top 3 Week Rankings:
Jena Irene – 36% – up 1 point from last week
Caleb Johnson – 28% – down 6 points from last week
Alex Preston – 34% – up 19 points from last week – eliminated
Jena Irene's lead in the poll made it the ninth week in this season's finalists performance run that either she or Caleb has topped our charts. Their consistently crowd-pleasing performances this season make them a strong pairing for the season finale, but a close one to predict as the winner.
To get a feel for how this could all turn out we shared another poll asking for readers' favorite performer heading in to this week's finale. Since the core supporters of both sides will most likely stick to their preference it gives us an insightful, though incomplete look at how the Final 2 could rank.
At the time of publishing we've seen over four thousand votes come in with Caleb and Jena Irene separated by less than four percentage votes. Caleb holds a small lead of 51% to 48% (due to rounding of numbers, the poll's whole numbers do not total 100%) over Jena Irene though this could continue to shift as more votes come in.
It's going to be an incredibly close season finale this week on American Idol 2014 and we can't wait to see what will happen next! Check out the graph below to see how all of the finalists have ranked in our unofficial polling this season.
click graph to see full-size