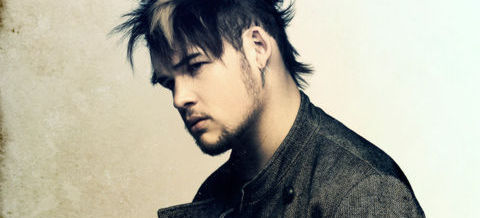 American Idol Season 10 contestant James Durbin has released details on the first leg of his 2014 tour, which set to kick-off Jan. 3, 2013 at Los Angeles's Viper Room. The last show in the line-up is Feb. 15 in Santa Cruz, California.
Following the tour, Durbin's sophomore album "Celebrate" is set to drop. That release date is April 8, 2014.
James recently released "Parachute," one of the new songs off the upcoming album release. It's definitely a much more pop-ish song than what we were hearing from James back during his time on American Idol and shortly there after. Looks like he could be making a big turn toward more mainstream music instead of his hard rocking work in the past. Check out the music video for "Parachute" below.
James Durbin – Parachute:
James Durbin's 2014 Tour Schedule
Jan. 3: The Viper Room, Los Angeles, CA
Jan. 7: Belly Up Tavern, Solana Beach, CA
Jan. 8: Pub Rock Live, Scottsdale, AZ
Jan. 10: HOB-Cambridge Room, Dallas, TX
Jan. 11: The Station Bar & Grill, Lafayette, LA
Jan. 12: HOB-Peacock Room, Houston, TX
Jan. 14: The Parrish, New Orleans, LA
Jan. 15: Wills Pub, Orlando, FL
Jan. 17: Brewster's megaplex, Jacksonville, FL
Jan. 18: The Masquerade, Atlanta, GA
Jan. 21: Ziggy's, Winston-Salem, NC
Jan. 22: Lincoln Theater, Raleigh, NC
Jan. 23: Empire, Springfield, VA
Jan. 24: I Play America, Freehold, NJ
Jan. 26: The Note, West Chester, PA
Jan. 29: The Hollow, Albany, NY
Jan. 30: Marlin Room@ Webster Hall, New York, NY
Feb. 4: The Rock Factory, Akron, OH
Feb. 5: Agora Ballroom, Cleveland, OH
Feb. 6: Thompson House, Newport, KY
Feb. 7: Austin's, Libertyville, IL
Feb. 8: Another Hole in Wall, Steger, IL
Feb. 9: 7th St. Entry Minneapolis, MN
Feb. 12: Marquis Theatre,Denver, CO
Feb. 15: The Catalyst, Santa Cruz, CA
Ticket information is available on James Durbin's website.