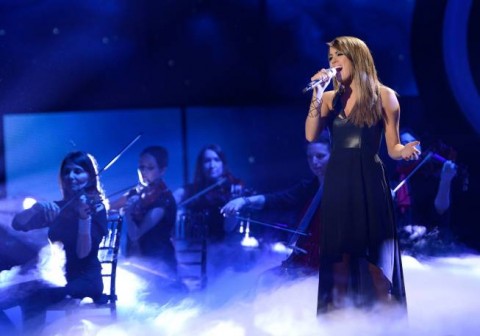 Last night on American Idol 2013, Angie Miller was on the receiving end of positive judge feedback, which couldn't be said for all the girls for the first time this season. Suddenly, they decided to be critical of more than just the guys. But lucky for Angie, her two solo performances were strong enough to keep the judges praise high.
Let's take another look at her solo performances.
Angie Miller Performs "Who Are You"
We saw Angie back at the piano with this one, which is where the judges love her. This was Angie's own choice, so she went with one of her idols, Jessie J.
Angie Miller Performs "Cry Me A River"
From the one-hit wonder theme, Angie went with this one from Julie London. I thought this one was much better than the first because it was a nice change for Angie. Singing this song proved she's even more versatile than first thought.
What did you think of Angie's performances? Did she do enough to send her on to the American Idol 2013 Top 3 and the hometown visits?