Seventeen year old American Idol 2014 contestant Austin Percario auditioned in Boston, MA with his mom waiting in the wings to see if he would win a Golden Ticket to Hollywood Week. While his doting mother is obviously a big fan, Austin seems plenty ready to fly on his own as soon as possible.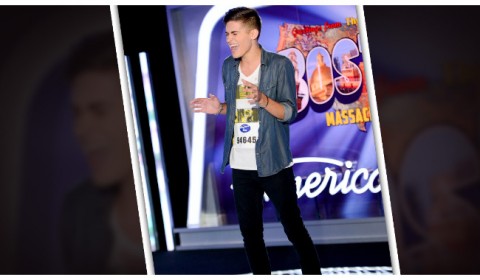 During his
American Idol audition
, Austin told the
American Idol
judges with a sideways grin that he is "seventeen years old, soon to be eighteen. So if I do end up going to Hollywood Week, I will be alone, without my mom."
Jennifer Lopez
,
Harry Connick Jr.
, and
Keith Urban
all found his obvious desire for a bit of freedom from his parental figure amusingly charming.
Luckly for Austin, the American Idol judges were impressed with his rendition of "Titanium" by David Guetta ft. Sia, and handed the young man a Golden Ticket. Mom, of course, was overjoyed to hear the news and ran right up to smack her son on the lips with a big, fat kiss. We're sure he is going to love having millions of viewers all over the country see mom plant one on him on national television!
>> Find out if Austin Percario made it to the American Idol 2014 Top 31 [MAJOR AMERICAN IDOL SPOILERS].