In his American Idol 2014 audition, 29-year-old Bryan Watt took a bold risk in performing "So Small" by Carrie Underwood. We have seen a lot of hopefuls over the years attempt to wow the American Idol judges with songs from one of it's most famous winners. More often than not, the contestant pales in comparison to the original and ends up going home.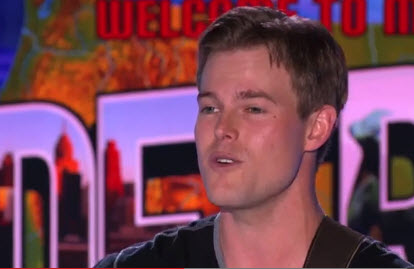 Thankfully, for American Idol season 13 hopeful Bryan Watt, taking on a Carrie Underwood song proved to be a very smart move. After being directed by judge Jennifer Lopez to "be great," Bryan went about doing exactly what he was told. His sweet, smooth country voice gave a poignant twang to the song and we thought he was fabulous. We'd love to hear him backed by a big country band while we watch him bat those extremely long eyelashes over a beautiful ballad.
Apparently Jennifer Lopez was also very pleased with the song, since she was reduced to just grinning like an idiot and saying "awwwwwwwwwwwhhhhhh" when Bryan was done. Seriously, we haven't seen J-Lo smile that big over any contestant yet this season! Harry Connick Jr. and Keith Urban were looking pretty happy as well, but we'll have to wait until tonight's episode to confirm Bryan landed a Golden Ticket to Hollywood!
What did you think of Bryan? Do you think it's time for a male country singer to finally win American Idol?