The very first singer of the night on the American Idol 2014 auditions premiere was Marrialle Sellars. Marrialle performed "Grenade" by Bruno Mars and it was more than enough to get her on through to Hollywood with a Golden Ticket. We revisit her performance tonight as American Idol 2014 featured the Detroit auditions.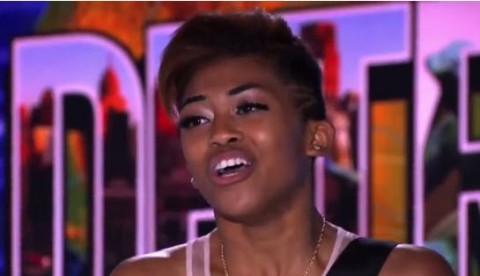 Before she even started singing, Jennifer Lopez said Marrialle Sellars was giving off a "Rihanna, Miley" vibe and "everything's happening for me right now" with the look she had going on. Jennifer also really liked Marrialle's sense of humor as well.
Although she walked in with a guitar slung across her back and used it for her first song, Marrialle also impressed the American Idol judges with an a capella version of "One And Only" by Adele. It was obvious from the start of her audition that Harry Connick Jr., Keith Urban, and Jennifer Lopez were all in love with her look, but it was her voice that really sucked them in.
http://youtu.be/aiBy0n6mU-0
Marrialle quickly proved she had the pipes as well looks and style, prompting Harry Connick Jr. to say she is "going to be a nightmare for the other competitors in this competition."
You already know Marrialle Sellars made it to the next round, but did she make it through to the Top 31? If you just can't wait to find out, you can check out our American Idol spoilers on who survived Hollywood Week.