Can you believe Carrie Underwood's live version of The Sound of Music may have cost as much as 9 million dollars to make? That's more than some Hollywood movies going out in theaters even now! Producers of The Sound of Music live event certainly were taking quite a risk pumping that much money into it. Of course, we'll probably be seeing it shown on TV over, and over, and over again every holiday season until it makes back all that cash and more.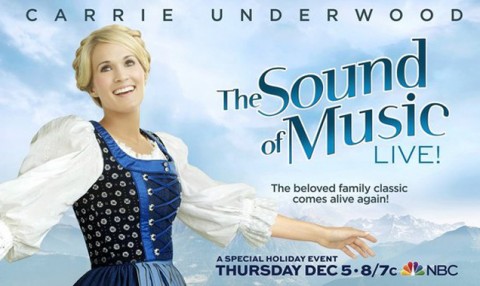 According to
The Hollywood Reporter
, sources told them
The Sound of Music
with Carrie Underwood cost NBC as much as 9 million dollars to make. The network isn't talking and has not revealed how much money they put into the live show. We're just astounded that anyone thought it would be a good idea to shell out multiple millions of dollars on an inexperienced actress in a three-hour LIVE remake of a hit classical musical (the live version is an adaption of the Broadway play, not the
Julie Andrews
movie). That's just ballsy!
Carrie Underwood talks about how important The Sound of Music is to her.
If you haven't had a chance to watch
The Sound of Music
live production yet, we won't spoil anything about it for you here. We urge you to go turn on the DVR and give it a look though and tell us what you think. Do you think it was worth 9 million dollars to make? If you missed it, don't worry, NBC will be airing it again at least one time more before Christmas… and then probably several times a year every holiday season to infinity.
(Click the thumbnails for bigger pics – Source: NBC)