American Idol and Dancing With the Stars alum Kellie Pickler made a guest appearance on Bethenny Frankel's talk show on Thursday and ended up playing some very slimy Truth or Dare! The country singer was quite hilarious on the show, laughing about being a sex symbol and asking Bethenny what the Mile High Club is. We just love Kellie, she's such a hoot!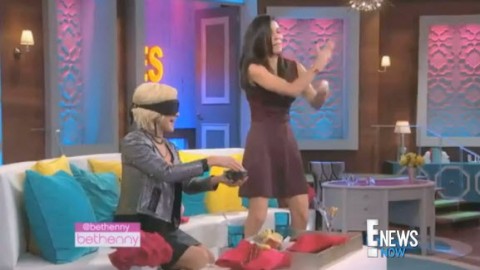 Former American Idol season 5 finalist and Dancing With the Stars 16 winner Kellie Pickler proved she is always up for a challenge when she was dared to "put your hand in a mystery bowl" with a blindfold on during a game of truth or dare. Kellie was totally up for getting her hands dirty and slapped on the blindfold. The country singer had no problem digging around in a bowl full of earthworms while the audience made gross sounds, but former The Real Housewives of New York star Bethenny looked like she was ready to run screaming from the set!

Kellie Pickler plays Truth or Dare with Bethenny Frankel
CMT Music Award winner Kellie Pickler is currently doing the rounds to promote her new album, The Woman I Am, which was released back on November 11. Grab a copy of the album on iTunes and keep track of what Kellie is up to at KelliePickler.com.