American Idol star Chris Daughtry has issued an apology for snubbing veterans of D-Day in an appearance on the show Fox & Friends. The rocker says he "panicked" when the show's hosts asked him to sing a patriotic song in honor of D-Day and responded badly when he chose to leave the set rather than honor the request.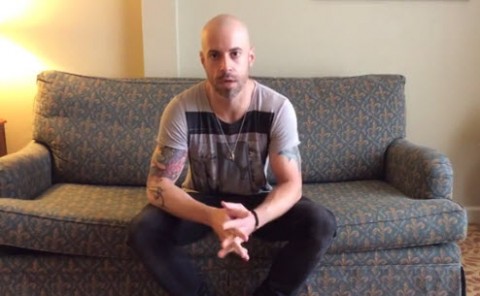 American Idol season 5 finalist Chris Daughtry performed as part of the All-American Summer Concert Series for Fox & Friends. After his performance, the Fox & Friends hosts joined Daughtry on stage and asked the singer if he would participate in a song to honor the veterans of D-Day.
Obviously flustered by the off-the-cuff request, Chris responded by saying he was "off the clock, I'm going to watch y'all." After a bit of awkward laughter and uncomfortable silence for a few moments, one of the Fox & Friends hosts again tried to engage Chris by saying they should "all sing 'My Country Tis of Thee'." As the hosts prepared to sing, Chris walked off stage after telling the crowd: "This is where I bail."
Daughtry's refusal to sing with the Fox & Friends hosts on a patriotic song for D-Day immediately sparked outrage and backlash on social media. A slew of nasty comments were directed at the American Idol alum on Twitter and Facebook, with even some of his hardcore fans expressing their extreme disappointment in his actions.
Chris Daughtry quickly posted a video on YouTube and Twitter to apologize for what happened during his appearance on Fox & Friends. In the video, Daughtry says he was "embarrassed" and "ashamed" of bailing out after being asked to sing in honor of D-Day.  He continues that he was caught off guard and "panicked" in the moment and his attempts to be humorous in his exit came across totally wrong.
"It was absolutely disrespectful," Daughtry says in his apology. "Poor choice of words, terrible judgement on my part … What I do is minuscule in comparison [to veterans], and I will never live up to what they did for our country. Fortunately, our troops have never said 'I am off the clock' when they had to do what they had to do."
"Everyone has a moment in their life that they regret very deeply, and this is at the top of my list," he said. "It hurts my heart to know that I have disrespected the men and women fighting every day. I apologize for offending any of our troops, any of the men and women who have served past or present," Daughtry said. "I'm sorry."