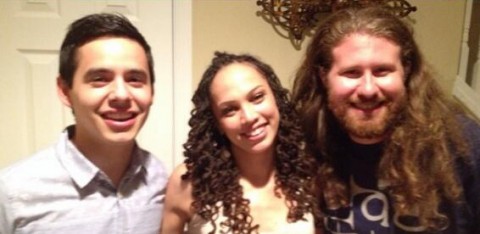 Something strange is happening in the American Idol world. Contestants from various seasons are getting together, jamming and recording songs together!
On two separate occasions recently, Idol alum have reported that they got together. On one occasion it was David Archuleta (Season 7), Casey Abrams (Season 11) and Naima Adedapo (Season 9). On another it was Skylar Laine (Season 11) and Scott McIntyre (Season 8).
According to Naima's Twitter, that little trio had an impromptu gathering. "Best pop up songwriting session EVER! Lol. #TheEarthIsOnATilt #GoodTimesWriting with @CaseyBassy & @DavidArchie," she tweeted. She also tweeted the photo above
Skylar reported on her Instagram that she loaned her vocals to Scott's upcoming album.
"Had so much fun recording a duet with this awesome guy, Scott MacIntyre today!" she wrote along with the photo below. "He is a fellow idol alum and will be releasing an album soon! The song we are singing together is one he wrote for his wife called "With This Ring" yaaaay! Watch out for it!!!"