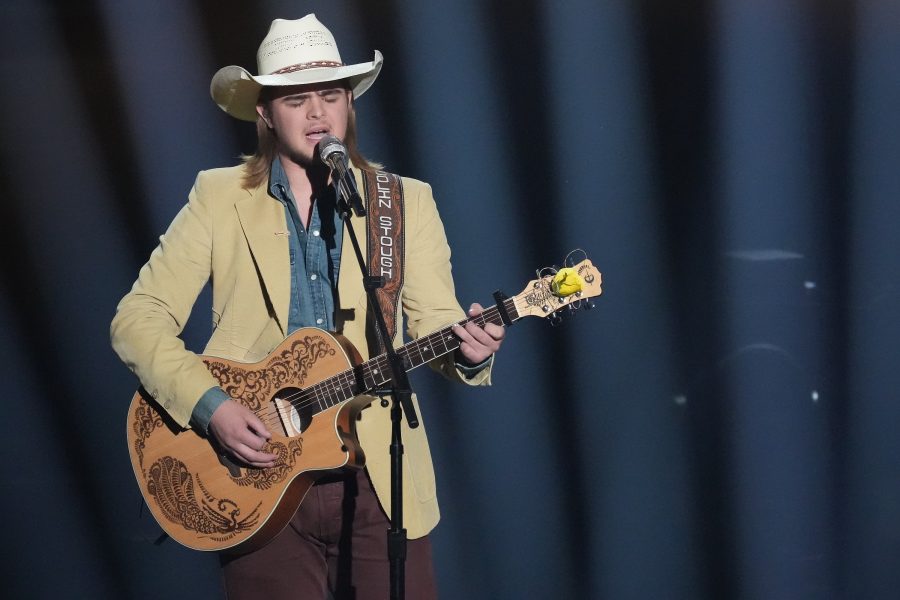 Each of the American Idol 2023 Top 3 has had a really fascinating journey, but Colin Stough's journey may have been the most entertaining. He has been very popular among Idol fans and just seems to grow in popularity.  For most of the season, he's had a lot of supporters behind him and rooting for him. With fan support, Colin has become more and more comfortable on stage. He's been the most interesting journey to watch during American Idol 21, because he's grown a lot, both as a performer and as this young kid pushed into fame.
He's had the biggest transformation of the Top 3 as he consistently gets better with each performance. Let's look at the top 5 Colin performances so far.
5. "Real Gone" from Cars
"Real Gone" is just a fun performance from Colin. It doesn't showcase his voice as much as some of his other performances, but it's nice to see the growth of his confidence and development as a performer.  "Real Gone" is a great performance to highlight his journey because it's so different from how he started the show, great vocals but very nervous. 
This performance shows that he's finding himself as an artist, but doing it with style and poise. 
4. "Midnight Train to Memphis" by The Steeldrivers
This performance is one that allows Colin to just lose and embrace his country-rock roots. He gives a really dynamic performance of "Midnight Train to Memphis." It's charismatic. This song is also a great choice to highlight the richness of Colin's voice. 
3. "It's Been Awhile" by Staind
"It's Been Awhile" is a song that I haven't heard in such a long time, but used to love listening to it. Hearing Colin sing "It's Been Awhile" reminded me of what I used to love so much about it. He gives such a good performance of this song by vocally hitting all the right notes, capturing the somberness of the song, and making it fit his style of singing.
It's an unexpected song choice that works. "It's Been Awhile" is one of the songs that just works so well with Colin's voice. It's more of a rock song than his normal country-rock style, but that's what makes this performance so special. 
2. "Simple Man" by Lynyrd Skynyrd
"Simple Man" is one of those all-time great songs that if you can sing it well, you deserve respect and admiration. Colin comes out the gate strong with this cover. It helps establish the tone and depth of his voice. It also highlights his potential.
If he can give a great performance of "Simple Man" during his first audition, then imagine what he could do after his 600th performance. 
1."Dancing On My Own" by Robyn
By the time Colin sings his acoustic version of "Dancing On My Own," you think you know him as a singer and performer. You expect these raspy, country, or rock songs. Then he switches things up not only by doing a cover of such a great pop song like "Dancing On My Own," but he also does such an intimate stripped version.
It gives him a moment that the viewers and his fans will remember. He doesn't lose his country style but does the cover in a way that fits his voice but also stays true to the essence of the song. "Dancing On My Own" is one of Colin's biggest moments from American Idol. 
Bonus: "Dive" by Ed Sheeran
When coming up with pairings and potential Ed Sheeran covers, I didn't think of this pairing of this cover but Megan Danielle and Colin give such a memorable and stand-out cover of this song. It's covered in a way that fits both of their voices. 
What is your favorite Colin Stough American Idol 2023 performance?
Join us tomorrow night for the three-hour American Idol 2023 finale where we'll see who actually wins the title of American Idol 21 winner. Also, make sure to add us on Facebook and Twitter for more American Idol news, spoilers, recaps, and much more.