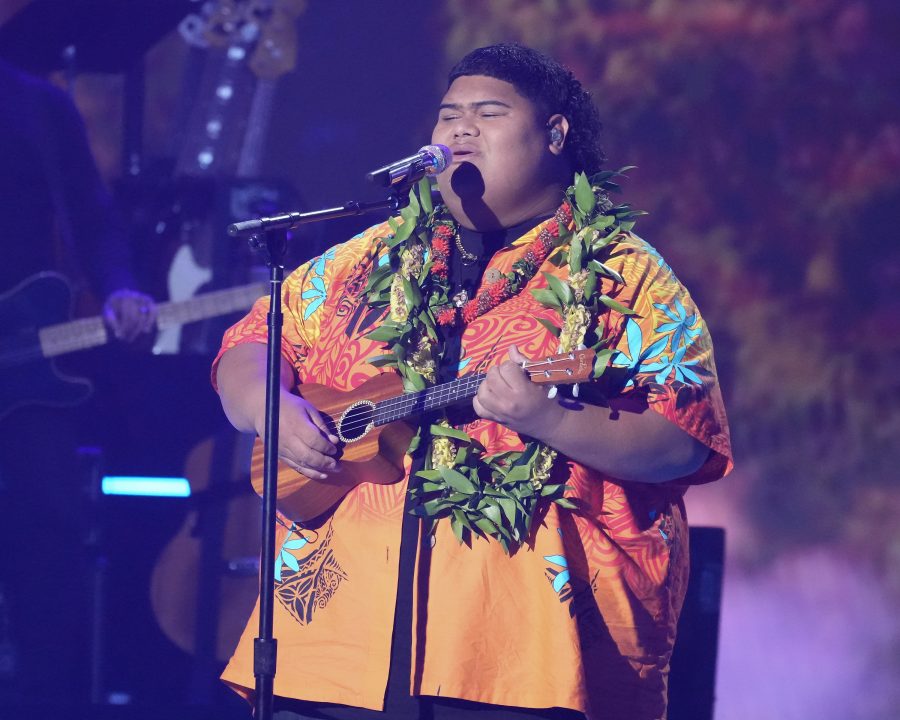 Iam Tongi has been the most consistent American Idol 2023 contestant. He started the show strong with one of the most memorable Idol auditions ever. He has continued to wow us each week with beautiful performances. He's one of the best storytellers that there has ever been on American Idol. Every week, I look forward to hearing Iam's covers. They're all so good. 
That makes it difficult to narrow down his five best performances. However, I did my best to pick only five of his performances that really stand out. He's really been great all American Idol 21, and I'm really looking forward to hearing what he sings on the American Idol finale. 
5. "I Can't Make You Love Me" by Bonnie Raitt
"I Can't Make You Love Me" is one of the best songs of all time. It's a song that's been covered countless times, and most of those covers are great. However, Iam puts his own stamp on the song and takes it to another modern level. It's emotional but not in the crush-the-soul sort of way, though I do really love it when "I Can't Make You Love Me" breaks your heart. 
Iam gives such a wonderful, heartfelt version of this song. 
4. "Bring It On Home To Me" by Sam Cooke
Iam has an old-school Motown vibe with his voice. It's smooth and able to really tell a compelling story. That makes the "Bring It On Home To Me" song such a perfect choice for his voice. It's smooth and rich, and you connect with everything he's saying in the song. Iam also has an ease about him while singing this song. 
It's one of his coolest performances. We could listen to him cover every Motown song because his voice fits them so well. 
3. "The Sound Of Silence" by Simon and Garfunkel
Iam sings so many classic and iconic songs during his American Idol journey. He tackles many different genres but gives them all his signature style. It makes them feel like brand new songs and that's one of the exciting things about Iam as a singer. He has such a unique voice that every song feels like his song. 
He reinvents them in a way that makes them feel fresh again. His voice also highlights why these songs are so beloved and iconic. With the right voice, they're such powerful and earnest songs. "The Sound of Silence" has been covered so many times by so many artists, but Iam's cover once again brings something fresh to a classic. 
2. "The Winner Takes It All" by ABBA
This cover of "The Winner Takes It All" grabs you from the first note. Iam captures your attention and doesn't let it go. He gives such a dynamic and riveting performance of this beloved song. It's dreamy while being haunting and heartbreaking.
It's sung unlike ABBA but keeps the integrity of the song. 
1."Monsters" by James Blunt
This audition left us speechless. It was so raw, breathtaking, and emotional. Iam worked through all his emotions to deliver the most memorable performance of American Idol 2023. It was such a heartbreaking and mesmerizing moment. It was this first performance that we knew Iam had something special and exciting.
It made the journey of watching him all season even more special. It was hard to watch this performance without bursting into tears. It really gets you because of the song's lyrics and meaning, but also the way Iam gives it his everything. 
Bonus: "Save Your Tears" by The Weeknd
This is the first of two Iam and Oliver Steele duets. The friends have a comfort around each other that makes their performances so enchanting. This was my favorite of their two performances together. Magic is captured with this one.
What was your favorite Iam Tongi American Idol 2023 performance?
Join us tomorrow night for the three-hour American Idol 2023 finale where we'll see who actually wins the title of American Idol 21 winner. Also, make sure to add us on Facebook and Twitter for more American Idol news, spoilers, recaps, and much more.