If you didn't know already, former American Idol runner-up Crystal Bowersox is gay. Just in case you missed that bit of information, Crystal has a new single releasing for the holiday season titled "Coming Out For Christmas." A portion of proceeds from the sale of the track will benefit The Trevor Project, an organization that provides suicide prevention services and crisis assistance to LGBT youth.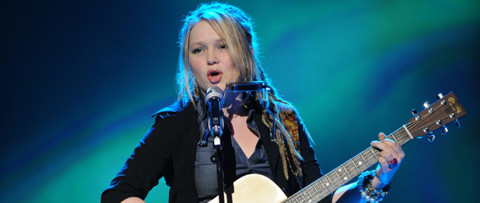 "The holidays are here, and it pains me to think that anyone would be left alone or be forbidden to be with their family over something as silly as their sexual orientation," Bowersox said in a press statement sent via e-mail.
"I hope it will serve as a holiday anthem for people who may finally have the courage to live their life as their true authentic self, proudly and unapologetically, and that their friends and family will love and accept them with loving open arms. May we all celebrate this holiday season together, celebrate equality, and give thanks for the true spirit of Christmas – with our one human family."
Northwest Ohio native Crystal Bowersox, who was the runner-up on American Idol season 9, will shortly be starring on Broadway in the title role of Always, Patsy Cline. She also has two albums out, which you can find avaialbe on iTunes along with the new single.