In his trip back to Sunnyvale, Texas, Dalton Rapattoni was absolutely swamped by eager fans hoping to get a glimpse of their hometown American Idol 2016 finalist. Dalton showed he hasn't let fame get to his head, however, when he stopped in at grandma's hair studio to get a haircut before his big concert. He also stopped by the local School of Rock where he had been a part-time vocal coach and jams with some buddies.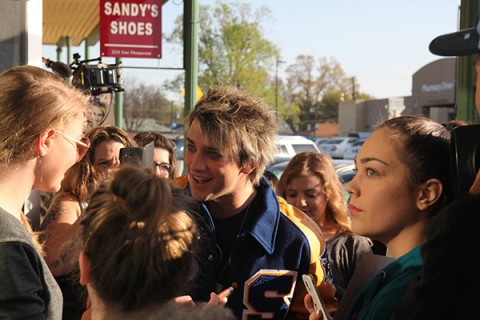 Dalton chose to do "Calling You" by Blue October for his first song of the evening. Once again it was another dramatic Dalton performance, but it still felt lacking in the vocals and a bit over-the-top. Jennifer Lopez said that Dalton seems to have really gotten in touch with who he is and is more free on the stage. Harry Connick Jr. said he likes how Dalton thinks about the lyrics of the song and called him a smart guy. Keith Urban talked about how unique all the finalists are and that he liked how Dalton made the song his own.
Dalton Rapattoni – "Calling You" by Blue October
For his second song, Dalton sing's mentor Scott Borchetta choice of "Dancing In the Dark" by Bruce Springsteen. This actually seemed to be a better song for Dalton, and the American Idol judges responded pretty well to it. We're still thinking Dalton is pretty much doomed for third place this season though. Jennifer Lopez thought Dalton did a good job with the song. Harry Connick Jr. liked the opening of the performance and sort of backhanded complimented him for how he interprets the lyrics trumping any lack in his vocals. Keith Urban also praised Dalton for his artistic qualities.
Dalton Rapattoni – "Dancing In the Dark" by Bruce Springsteen

This was a fun song choice for Dalton as a performer, but it doesn't thrill the American Idol judges. All of them seem to agree it was the weakest performance of the night for Dalton. If he manages to make it into the finale over Trent Harmon or La'Porsha Renae, we'd be rather shocked.
Dalton Rapattoni – "Everybody Wants to Rule the World" by Tears For Fears
What did you think about Dalton Rapattoni this week on American Idol 2016? Don't forget to cast your vote for who will make it to the finale!