With the new season of American Idol barely underway, trouble is already brewing at the judges table between Ellen Degeneres and Simon Cowell.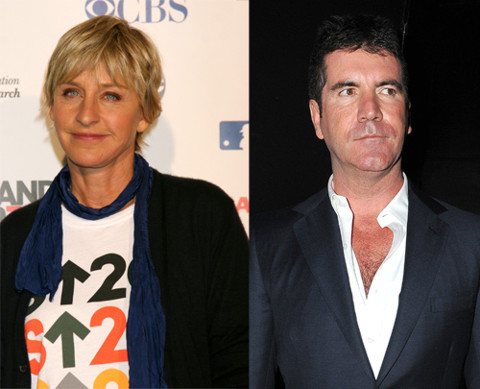 It was Ellen's first day on the job.  She showed up nervous and excited however these feelings quickly turned to anger as she waited and waited on Simon to show up.  Ninety minutes later, he breezed through the door.  Apparently Ellen had rearranged her schedule and moved the taping of her talk show up so she would make it to Idol on time. 
Deadline.com claims a source close to AI told them Ellen was fuming and called Simon a "prima donna."  Ellen then jumps on the phone with FOX chief Mike Darnell and tells him to "hurry up and pick" Simon's replacement.
Radaronline is also talking about the on going feud between the two but their source claims the 90 minute hold up is "greatly exaggerated" and Simon was only 14 minutes late and the taping had started without him.  This caused more tension between the two and when the cameras stopped rolling, the two were not speaking to each other. 
"There's two camps on the show this season," said an Idol insider. "It's a lot more tense than previous seasons. It seems as if Ellen has decided to try to take control since Simon is on his way out and that's created problems."
Who do you think will end up with final control on AI?