This year during the AFC and NFC games, we saw and heard Jordin Sparks and Kris Allen grace us with the National Anthem but for the big game, Super Bowl XLIV, they called none other than Carrie Underwood, season 4 winner of American Idol.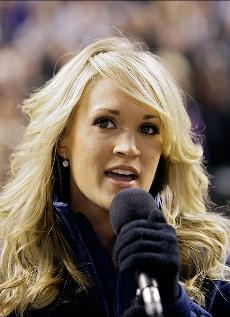 Carrie has outsold all other previous winners and contestants on american idol and is a four time grammy winner.  This marks the third straight superbowl where an idol contestant has sung the national anthem, the previous two being Jordin Sparks and Jennifer Hudson.
Being the football fan that I am, I was already getting geared up for the game but now I will make sure I'm there for the start because Carrie has an amazing voice and I know she will do America proud on the song. 
Will any of you watch the game now that Carrie is singing?
Photo By David J. Philp-Pool, Getty for USA Today