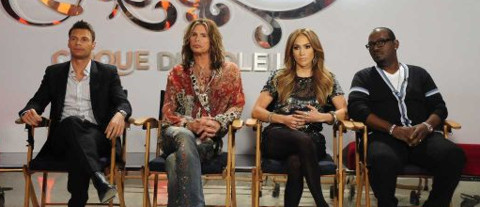 Entertainment Weekly is striking back at yesterday's rumor list with a list of their own featuring details straight from American Idol executive producers.
Those music videos we heard the Idol Hopefuls would be allegedly cranking out to show they've got the marketable goods? Not anymore, says executive producer Cécile Frot-Coutaz. That idea was shot down and won't be in this season.
The Top 24's 3-week elimination round is gone. Instead we'll have the Las Vegas round where the Top 60 will be cut to Top 40. Following that elimination the Idol Hopefuls will return to Hollywood for another cut, leaving us with the Top 20 for this season. Long, drawn out Top 24 replaced by waves of eliminations? Yeah!
A big improvement is being referred to as the elimination of "gender parity." In past seasons the cuts were made to keep an even number of boys and girls. Now the cuts will be made based on talent, regardless of sex. This is a great change.
Sadly, perhaps the seemingly simplest change probably won't be happening. Online voting. EW's source says its unlikely that we'll have online voting this year, but hopefully that leaves the option open for future seasons.
EW promises more details in their upcoming publication, but for now these will have to tide us over. With just two weeks to go, it won't be long. Are you ready?
Source: EW