We have new Glee spoilers photos from the November 28 "Puppet Master" episode featuring former American Idol runner-up Adam Lambert. Yes, Elliot "Starchild" Gilbert is back for the first official gig of Kurt's new Madonna cover band Pamela Lansbury! In the spoilers photos for the episode, it looks like Adam will be dressing down a bit and toning down some of those crazy stage antics. Too bad, we liked the over-the-top Starchild!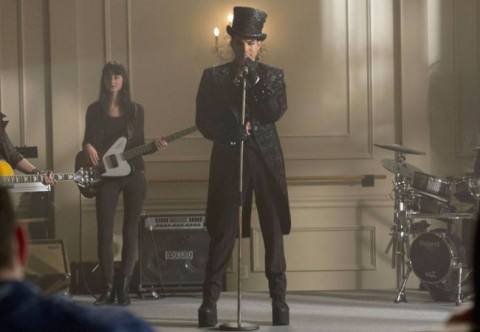 Then again, according to MJsBigBlog, it looks like the photo we have of Starchild and the band may actually be a 'fantasy' scene from Kurt's mind about what he'd like their first gig to be like. Maybe that's why everyone looks so… technicolor. Kurt (Chris Colfer) and his fashion obsession! So we'll just have to wait and see what actually happens. We say bring back the glitter, the top hat and the hanging from chandeliers!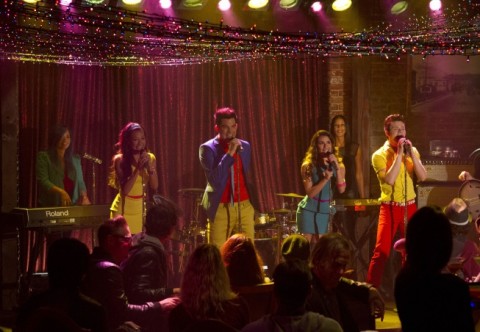 Kurt's band will be performing "Into the Groove" by Madonna on the show. Guest stars Demi Lovato and Adam Lambert will also reportedly pitch in on a rendition of "What Does the FOX Say" by Ylves.
(Click on thumbnails for bigger picks – Source: FOX)
Here's the official synopisis for Glee season 5 episode 7 from FOX:
"Puppet Master" – All-New Thanksgiving Night Episode!

Blaine believes he has the best plan to win Nationals, but he doesn't take the glee club's criticism too well when the students accuse him of being too controlling. Over in New York, Kurt also runs into control issues when the band disagrees over the venue of their first official gig that Kurt booked. Meanwhile, Sue reveals the story behind her iconic tracksuit and gets in touch with her feminine side in the all-new "Puppet Master" episode of GLEEairing on Thursday, Nov. 28 (9:00-10:00 PM ET/PT) on FOX. (GLE-507) (TV-14 D, L)
Will you be tuning in to watch Adam's return to Glee?