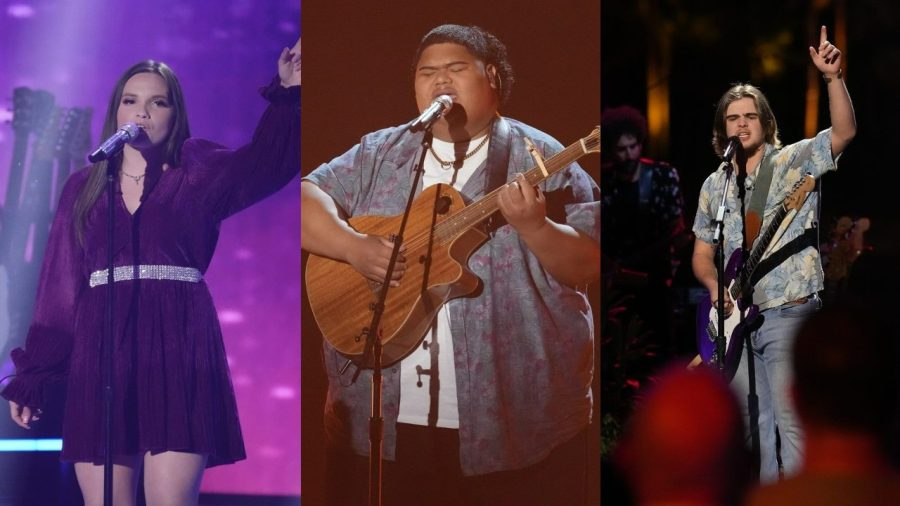 The American Idol 2023 finale starts now. For the next three hours, we'll watch plenty of great performances and memorable moments. These will help celebrate the season and crown the winner of American Idol 21. It's been a long and hard-fought journey for Megan Danielle, Iam Tongi, and Colin Stough. They have one more battle ahead as they'll give it everything they got to win the American Idol 2023 title.
It's going to be a very exciting night with special guests such as Keith Urban, James Blunt, Lauren Daigle, Clay Aiken, and Ruben Studdard. I'm excited to see all of tonight's performances, but I'm a little more excited to see the former Idol finalists perform. As someone who has watched American Idol since the very first season, I am really excited to hear Ruben and Clay perform on Idol again. Nostalgia really is a strong drug. Clay and Ruben be a very welcomed blast from the past.
It going to be hard to predict who will win American Idol 2023 until the very last song, which is why we're excited to get the show started. Colin, Megan, and Iam have been amazing to watch all American Idol 21, so this should be quite a fun celebration of the season and all of its wonderful contestants. 
I can't wait to see who wins American Idol 2023. Let's get to the recap. Dim the lights.
The show starts with Pitbull singing "Jumpin" with Lil Jon. Then Pitbull sings "Give Me Everything." The Top 12 American Idol contestants join him on stage to sing this song. Ryan Seacrest then introduces the Idol judges: Lionel Richie, Katy Perry, and Luke Bryan. He then lists all the performers for tonight's finale. 
He then introduces the Top 3 and asks them a few questions. The voting numbers are announced.
You can vote for each:
Megan Danielle by texting 10 to 21523
Colin Stough by texting 6 to 21523
Iam Tongi by texting 12 to 21523
You can also vote for each by voting on AmericanIdol.com/vote or on the American Idol app.
Round 1
Keith Urban starts his mentoring by talking to Megan Danielle. She's singing "God Whispered Your Name" by Keith Urban. Lionel said that she has natural barbecue sauce ability. He said as far as he's concerned, they have three number ones. Katy said that she can tell that Megan really likes this new version of herself. Luke said she hasn't missed a note or made a bad vocal decision all year. He said that it's inspiring.
Up next is Iam. He's singing "Making Memories of Us" by Keith Urban. Katy said that his singing goes through people's hearts. It moves people so much. Luke said that he has a natural gift to create emotion and tell the story. He said this was one of his favorite Iam performances.  Lionel said he's a great storyteller and has a great delivery.
Colin sings "Stupid Boy" by Keith Urban. Luke said that he's just being him and said it's been a pleasure to watch him grow and develop.  Lionel told him to enjoy the ride and they're very proud of him. Katy said his performance was so sweet. She said when he reaches 100 percent in the real world, it's going to be hot.
Round 2
We get a segment of Megan returning to her hometown. Then  Megan sings "Faithfully" by Journey as a tribute to her hometown. Lionel said her standing on stage is part of god's plan. Katy said that what she gave was phenomenal and that this is where she's meant to be. Luke said American Idol is the only time that he cries. He said that she makes people feel things. He said the ending was one of the best things that he saw all season. Luke said it was beautiful from start to bottom.
We watch Iam's segment of his hometown. Iam sings "Cool Down" by Kolohe Kai to represent his hometown. Katy said that he brings the culture to American Idol. Luke said that when he gets in the zone of Hawaii and the island mode it's great. Lionel said that he's taken his natural gift and spread it around. He said it was amazing watching his village celebrate him.
Colin sings "Either Way" by Chris Stapleton after his hometown visit segment. Luke said that Colin is so much better than he thought he was. He said he got it and he loves seeing him grow. Lionel told him congratulation that he did a great job. Katy said it was his sweet spot.
Lucy Love got to sing a medley of TLC songs with the group. The songs include "Creep," "No Scrubs," and  "Waterfalls." 
The Top 12 then get to talk about what they love about the Top 3 contestants. They first react to things Colin says and not understanding his saying.
Zachariah Smith sings "Take It on the Run" by REO Speedwagon with REO Speedwagon's frontman Kevin Cronin.
It's time for the first results. The first person in the Top 2 is Iam Tongi.
The second and final person in the Top 2 is Megan Danielle. 
Colin Stough is eliminate
Jelly Roll and Lainey Wilson sing "Save Me." He then sings "Need a Favor" with Oliver Steele. 
Then the Top 12 talk about Megan being very country and how she takes pictures with her tongue out and an eye closed.
Nutsa and Kylie Minogue sing Kylie's new single "Padam Padam" and her classic "Can't Get You Out Of My Head."
Lionel Richie sings his Commodores song "Sail On" with the Top 12 American Idol finalists.
Keith Urban performs "Wild Hearts."
Round 3
James Blunt and Iam sing "Monsters." Iam gets emotional as the performance is dedicated to his late father.
Ellie Goulding sings "Miracle," and then she sings "Burn" with Tyson Venegas.
Lauren Daigle sings "These Are The Days." She then sings "Thank God I Do" with Megan.
Luke Bryan sings "But I Got A Beer In My Hand." He then sings "Slow Hand" by Conway Twitty with Colin Stough.
The Top 12 then talk about Iam saying yessa and hey all the time. They then talk about the fly that went on his head during one of his performances. Jazmine Sullivan and We Ani sing "Bust Your Windows."
Marybeth Byrd and Lainey Wilson sing "Heart Like A Truck." Warren Peay joins them at the end of the song to turn it into a trio song.
Haven Madison and Katy Perry sing "Still Need You" and "By The Grace Of God," which is a mashup of both of their original songs.
Ruben Studdard and Clay Aiken sing "The Impossible Dream (The Quest) from Man of La Mancha. Iam and Megan join them on stage to sing the song.
We see the Top 3 going to the Sound Factory to record their original singles.
Megan sings her original song "Dream Girl." Then Iam sings his original song "I'll Be Seeing You."
Ryan announces that after the commercial break, he will announce the winner. Before getting to the winner, Ryan asks the judges to speak about this year's bunch.
The lights dim and Ryan announces that the winner of American Idol 2023 is…Iam Tongi. 
Thank you for joining us all American Idol 2023. See you again for American Idol 22. We can't wait to see next season's contestants start their journey. Make sure to add us on Facebook and Twitter for more American Idol news, spoilers, recaps, and much more.