Sorry dreadlock-loving ladies but Jason Castro from American Idol 2008 (Season 7) got married this weekend, according to Snark Food: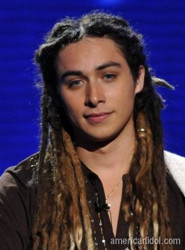 Jason Castro and Mandy Mayhall tied the knot on Saturday near Dallas, Texas following a boy's night out bachelor party of bowling, poker and pool earlier in the week. Castro confirmed the wedding reports on Sunday, posting on his Twitter feed: "Yesterday I married the girl of my dreams… It couldn't have been more perfect! Now, honeymoooon!!!"
Now Castro just has to get ready for his album release of The Love Uncompromised EP
coming up on January 12th as a digital release. You can pick it up at Amazon here.
Update: Thanks to Betsi Castro we have a few wedding pics to share. Click thumbnails to enlarge.
What do you all think? Looks like a good couple to us.