We had a good feeling about Jessica Meuse's American Idol Top 9 performance on Wednesday night. We knew she was going to be reprising her original song "Blue-Eyed Lie" from her audition at the start of the season. That just happened to be one of our favorite American Idol season 13 auditions, so we were really looking forward to seeing her do the song again.
Happily, the song was even better the second time around! Jessica was confident and had her swagger on big time, giving off a heavy rocker vibe with a twist of snarl. We were totally into it and so were the American Idol 2014 judges.
While Keith Urban did feel that Jessica needs to loosen up a bit from the neck down and project more energy with her body, he said she reminded him of Grace Slick and he loved her ferocity on stage. Jennifer Lopez said she loved the whole thing and it was a whole different experience for her from the original audition. Harry Connick Jr. liked the song when he first heard it, and loves it even more now.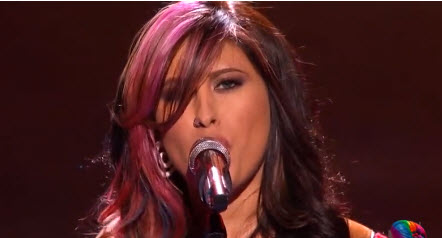 What did you think of Jessica's performance tonight? Better than than the first time around? Will she be earning your votes this week?
Vote for Jessica:

Text 10 to 83676
Call 1-855-4-IDOL-10 (1-855-443-6510)