Unlike many of the American Idol 2014 finalists we've profiled so far, Jessica Meuse (or "Pinky" as we call her in our Idol chat) had quite a presence online even before the show. Now that she made the season 13 Top 10, of course, her fans are happy to have so much info about her out there to ponder!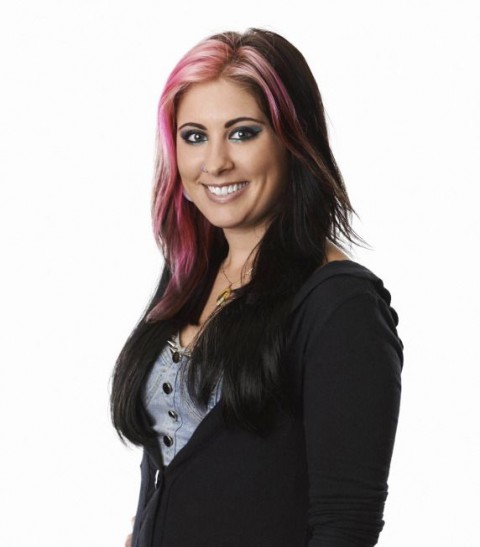 We found Jessica's photos, videos, and music all over the Internet just waiting for us to drop by and check them out. Jess wants to be seen and heard, which is never a bad thing when your goal is to become an American Idol winner, right? Heck, Jess even has a MySpace page. Now that's dedication to the cause!
Website | Facebook | Twitter | YouTube | Fan Page | Idol Fan Page
Jessica Meuse American Idol Performances
Season 13 Audition:
Road to Hollywood:
Hollywood Week Group Round:
Hollywood Week Final Judgement:
Top 31 This Is Real Profile:
Semifinals Rush Week:
Top 13 Interview:
Top 13 Performance:
Top 12 Performance:
Top 11 Audition For Jessica Meuse:
Top 11 Performance:
Jessica Meuse Background
On her Facebook page, Jess "Velociraptor" Meuse has a map dotted with 34 tags of all the places she's lived and been, from Nashville, TN to Mobile, AL. She was apparently born in Round Rock, Texas, but now lives in Slapout, Alabama. This interestingly named small town is close to Birmingham, AL area, where Jess played out at a local singer/songwriter night right before the American Idol season 13 premiere.
Also on her Facebook profile, Jessica Meuse lists herself as "in a relationship with Steven Atkins" and ha lots of cute pics of herself with pink-streaked hair cuddled up with what we assume is her boyfriend. Many of Jess' photos feature her showing off various hair colors from fiery red, to blond-streaked brunette, to full-on radioactive pink. We guess that's just her thing.
We also learned from her Facebook page that Jess is a fan of sports, including the Carolina RailHawks, the Dallas Cowboys, and the University of Auburn Tigers. We're not sure if perhaps she is/was a student at the school, but she does have several links to it in various ways from her profile, so we're thinking that might be a good bet.
Jess is also fond of scary movies like Jeepers Creepers and Alien, likes TV Shows like Supernatural, America's Got Talent, American Idol and Duck Dynasty, and reads everything from The Hunger Games to The Heroin Diaries. She's also a gamer girl into Grand Theft Auto, Final Fantasy, and Ghost Recon, among other titles.
Among her musical likes, Jess Meuse lists a lot of indie artists and a exhibits a wide range of tastes. She is a fan of such artists as Bill Hudson, Graveyard Hill, David Cook, Alabama Shakes, Chuck Berry, Otis Redding, and Phil Collins. In particular, however, she seems to have quite a taste for heavy metal. Although it appears to be more about listening to it than playing it, from the videos we've seen.
On her official Jessica Meuse fan page, the singer/songwriter says that she was 10 years old when she first sang in public, and "after that, I knew music was all I wanted to do in life." She also says she plays the guitar, violin, and piano. As for her style of music, Jess says "it's a hybrid of Indie/Alternative/Pop/Rock/Country." If you want to hear more of what that sounds like, you can hear a lot more of Jess on her YouTube channel and on her ReverbNation page.