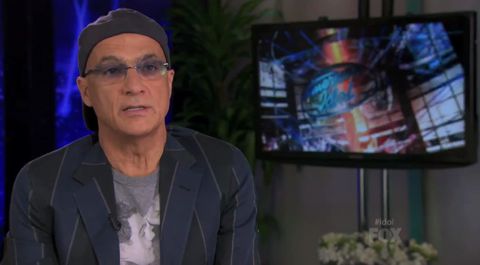 American Idol's Jimmy Iovine is back with his next round of critiques on the Season 12 Top 4 as they took the stage as a group for the second time in two weeks.
On Angie's choice of "Diamonds" by Rihanna, "it just wasn't the song she needed it to be. I think Keith was right. She tried to take this song somewhere where the bones of the song just didn't have enough meat on it."
Amber's performance of "Just Give Me A Reason" raised mild support from Jimmy. "She's a great singer with the wrong song," said Jimmy. "It could have been the right song if she had more time to prepare for it."
High marks for Candice from Jimmy. "She did a magnificent job on both songs. It wasn't the best she's done so far, but she was head and shoulders above the rest," he explained.
Kree disappointed Iovine. "In my opinion, Kree just hasn't lived up to her full potential in the last two weeks." Jimmy felt Kree did "well on both songs" but thought two average performances is worse than having one great performance coupled with one poor one.
Watch Jimmy's feedback to hear what else he had to say on this season's final four ladies.
Jimmy Iovine on American Idol 2013 Top 4:
Source: YouTube