Katherine Winston took the American Idol Season 14 audition and Showcase stage by storm and she hopes to win over America next as one of the American Idol Top 24 contestants for 2015.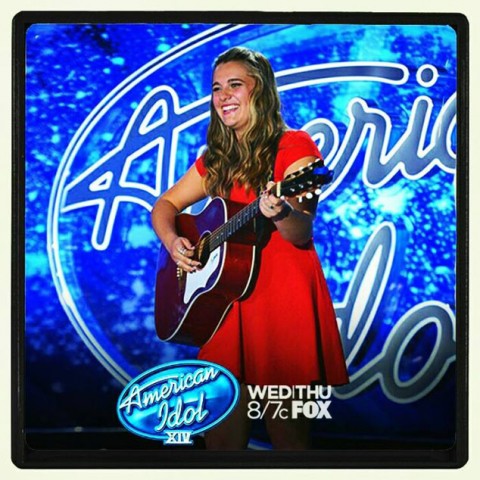 Katherine Winston left high school her sophomore year to be homeschooled and pursue her music career. So to say she's been dedicated to her craft would be an understatement. And now she gets to see if it all pays off as one of the Top 24 contestants on American Idol 2015.
Katherine says on one of her music websites that her musical influences have changed as she grows. She says she is currently nto many different artists such as Johnny Cash, John Paul White, The Civil Wars, Matt Corby, and The Lone Bellow.
On her Twitter page, she's even seen tweeting Johnny Cash, "Every possession is just another stick to beat yourself down with" – Johnny Cash, she tweeted recently. Her Twitter page is very modest right now. With just over 600 followers, it's just your average young girl account. Expect that to change very soon.
Katherine's audition from New York City
Katherine's performance during the American Idol 2015 Showcase week
Katherine on her House of Blues performance 
"Performing at the House of Blues was amazing, you know? The minute they told us like that we were going to be able to do that, everybody was so stoked. It was so exciting and like you said, legendary venue where everybody has played that's, you know, all of these heroes of ours and it was nerve-racking and everybody just said like you know, you really have to connect with the audience. That's what they want. The judges wanted to see us and wanted to see how we interacted with a live crowd, which is, I think, a wonderful audition because you know, sometimes even with Hollywood week, you know, you're performing amongst your peers, not in a, you know, indifferent crowd. So you know, I think that the live audience really showed the judges like who could put on a real concert and you know, I think everybody did amazing, all 48 people really were incredible, but I think, you know, certain people stand out as being able to connect with that crowd and the judges were really looking for that and I think it was really cool, but I mean, performing at the House of Blues either way was just so incredible."