Original American Idol winner Kelly Clarkson and husband Brandon Blackstock have a new baby girl in the family! Although the baby girl was born on June 12, Kelly kept the news under wraps until this weekend. Mom and baby daughter are reportedly doing great, and the happy parents are beyond thrilled.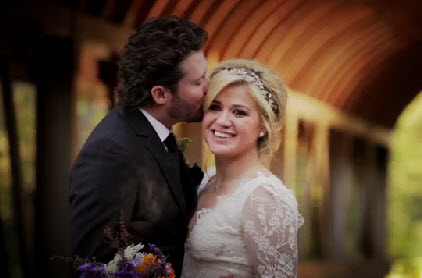 Being the creative type, Kelly Clarkson, of course, had to come up with a beautiful and unique name for her new baby daughter. We think she and husband Brandon Blackstock thought up a gorgeous one! They announced the baby name along with the birth to fans on Twitter.
Our baby girl River Rose Blackstock arrived on June 12th! Thank you everyone for all of your well wishes! Brandon and I are on cloud 9!! 🙂

— Kelly Clarkson (@kelly_clarkson) June 14, 2014
Kelly announced she was expecting just four weeks after she and Brandon were married in a small, private wedding ceremony in Tennessee last year.
The pregnancy was a rough road for Kelly, who endured extreme morning sickness throughout much of it. When she found out the baby was a girl, Kelly said she knew it because "only a girl could cause this much drama with all this vomiting!"