La'Porsha Renae has been riding high the past few weeks with spectacular performances and very little negative criticism from the American Idol judges. However, it's also getting difficult for her to top herself and show even more improvement every week. Has La'Porsha Renae hit her peak too soon? Or will she still be able to keep climbing in the eyes and ears of the judges and the voting fans?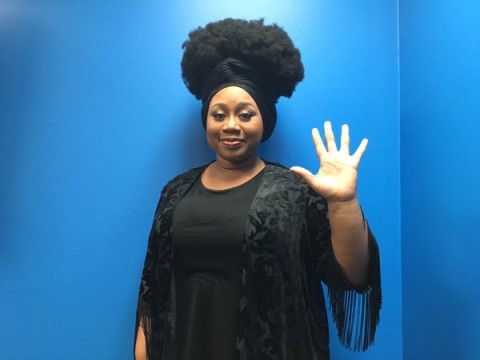 The songs La'Porsha Renae chose for the American Idol Top 5 performances were certainly good picks for the powerhouse singer by the viewers. We could easily see her killing both of them, and once again showing off why she's a strong favorite to make the American Idol 2016 finale. And yet, La'Porsha is so very good that fans may be developing unreasonable expectations for her performances. If that happens, and they feel she isn't wowing them even more with each new song, she could end up losing voters.
"Ready For Love" by India.Arie
While some viewers may have never heard of this song before, it's well known to to any fan of India.Arie or her style of music. Definitely a strong pick for La'Porsha Renae and she ran with it. Although it might not have been La'Porsha's most impressive song, she still gave a great performance and the judges were all about it. Harry Connick Jr. though La'Porsha nailed the lyrics and was "phenomenal." Keith Urban was totally caught up in the moment and it was like he was just watching a concert, not being a judge. Jennifer Lopez thought it was a complete performance in every way and loved her 'earth mother' vibe.
There's a lot of love for @laporsharenae, and she's "Ready for Love," performing @indiaarie. #IdolTop5https://t.co/G7dpKT6PHW

— American Idol (@AmericanIdol) March 18, 2016
"No More Drama" by Mary J. Blige
La'Porsha absolutely blows this performance out of the water. She roars on stage in an emotive fury, and the American Idol judges are caught up in her hurricane. Jennifer Lopez weeps, she's so moved by the performance and calls it a powerful moment. Keith Urban thinks La'Porsha and her performance were just inspiring. But time is running out and we don't get to hear anything else about the song. Not that we really need to.
What did you think about La'Porsha Renae this week on American Idol 2016? Don't forget to cast your American Idol vote for who will make it to the Top 4 next week!