This week we'll find out if Leah Guerrero makes it past the American Idol 2014 judges at the Green Mile and on to the live shows next week. Read on for the spoilers.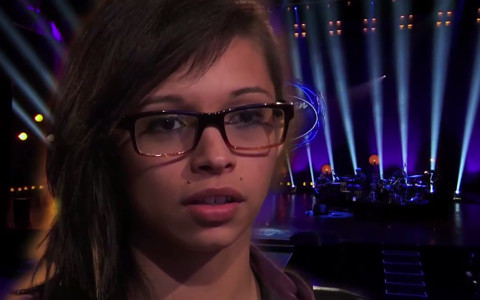 Leah will be performing Etta James' "I'd Rather Go Blind," a singing show favorite, when she appears for the final round on American Idol's Hollywood Week this Wednesday night. Leah successfully navigated the challenges of the Group Round but now she's back on her own with one more chance to shine.
The judges will listen, take notes, and stack her up against the competition to decide if she has what it takes to move on to the live shows starting next week.
Here is a sneak peek at Leah Guerrero's final solo performance during Hollywood Week.
Leah Guerrero – I'd Rather Go Blind – American Idol 13
Want to know if Leah Guerrero is eliminated at The Green Mile or if she makes it on to the Top 30 (psst, Top 31) this season? Check out our Season 13 semi-finalists spoiler list to find out if Leah appears on the list.