Could Lovey James be the next American Idol? After the American Idol Season 14 Showcase Week she's one step closer as one of the official American Idol Top 24 contestants for 2015.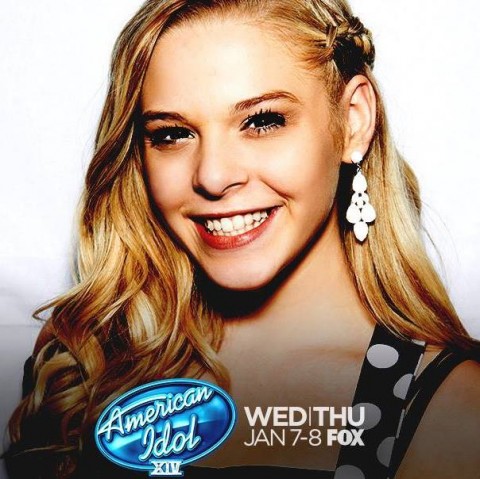 It seems to me Lovey is already on the brink, so I'm not sure why she needs American Idol. She has over 75,000 twitter followers, an online store on her website (no kidding) and her own VEVO page on YouTube (including a video released just 7 months ago — see below). Oh, and as we learned in her audition, Lovey is totally a stage name. So again, why does she need American Idol? Maybe American Idol needs her.
Actually, since Lovey has already been marketed, that means she's marketable. She came into her audition and sang Ariana Grande, who is currently the thing happening in music right now. So it's no surprise that Idol has swooped in. Expect Lovey to be pushed hard to win this season. And she might just do so. Like the song below says, she can do anything.
Lovey doesn't talk much about musical inspirations, but on her website she does dish on who Love James is.
"I speak my mind through song, but sometimes I'd rather dance. I live a clean life in a messy room. I work hard, but play even harder. I am not afraid of what others think, but I really hope you like me on Facebook. I can sing with my mouth closed, can you? You should try it. I wear contacts but my future is clear! I am a realistic dreamer. I am fun loving and fun to love. With my friends and family behind me, I can't be stopped. I am stronger than I think I am. I am Lovey James."
Watch for Lovely to make her mark on American Idol 2015 season 14! We'll keep you updated on all things Lovey as we bring you the latest news on her progress on the show all season long.
Click images to view larger
Lovey James' audition from Kansas City:
Lovey James performs "Wings" during American Idol 2015's Showcase Week
Lovey James on her House of Blues performance
"We weren't actually given any advice right after our performances. It wasn't until final judgment that the judges actually told us like what they thought and the judges told me that it was the best performance they had ever seen so that's really cool, you know, to show that already I'm improving and gaining all this experience, but the House of Blues was amazing. The crowd was so hyped. I started off my song a Capella so it was all slow and then the beat kicked in, the drum kicked in and Tyanna sang a fast song too so she knows how I'm feeling. The audience is just like bumping."