Charismatic young singer MacKenzie Bourg gained a hefty following of fans when he competed on The Voice 2013, making it all the way to the Top 20. Now, his boyish charm is converting a horde of American Idol viewers to his cause as well. MacKenzie has already made it further on American Idol than he did The Voice, and could be a strong contender to end up in the finale competing for the winner's crown.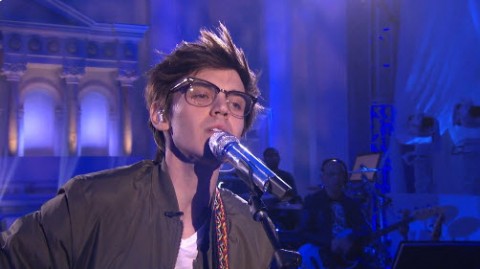 This may be the 'year of the girls' on American Idol 2016, as the judges and many critics have said due to the strong talent among the ladies this season. However, with young men like Dalton Rapattoni and MacKenzie Bourg in the Top 14, we aren't convinced that it was end up being a female American Idol winner this year no matter how dominating the women were in the early competition. After his miracle survival from congestive heart failure, MacKenzie Bourg has already show that he can battle back from overwhelming odds in life to go after his dreams. After that, American Idol may just be a cakewalk! (Read more on MacKenzie's backstory on his Top 24 profile page.)
Audition: MacKenzie's American Idol 2016 audition was one of our favorites from all of the cities this year. He took a risk in performing a 'medley' of songs from each of the American Idol judges. His acoustic rendition of "Stupid Boy" by Keith Urban, "Come By Me" by Harry Connick Jr., and "Love Don't Cost A Thing" by Jennifer Lopez delighted the judges as much as it entertained us as viewers. Harry called MacKenzie a "smart son-of-a-gun." Jennifer and Keith both told the young singer they loved the sound of his voice. There was no way the panel was going to pass on sending MacKenzie through to Hollywood.
Hollywood Week Lines of 8 Solos: There were so many singers that received Golden Tickets that we aren't able to dig up every video of them, and so we don't have MacKenzie's first solo from Hollywood Week. Needless to say, he did a good job and the American Idol judges pushed him on to the Group Round.
Hollywood Week Group Round: Unfortunately we didn't see much of MacKenzie during the group round and don't have a video of his performance. However, he charmed the judges once again to make it through to the next phase of the competition.
Hollywood Week Solo Round: In the Hollywood Week solo round, MacKenzie was only one out of a long line of singers to stand in front of the judges — yet he managed to make himself stand out very uniquely. Not only did he perform an original song called "Roses," but it was so good it left the judges looking somewhat shocked that he actually wrote it. Plus, while MacKenzie was singing and playing, it was hard not to completely forget he was performing for an audition, and not just playing at his own concert.
Hollywood Week Showcase Round & Final Judgement: For his final performance before the Top 24 selection, MacKenzie had both the audiences and the judges captivated with his rendition of "Can't Help Falling In Love" by Elvis Presley. We can't help but think this was one of the easiest decisions the American Idol judges had to make in putting MacKenzie through to to the Top 24!
Top 24 Semi-Finals Solo Round: Despite his insanely weird memory for "rap songs from 2006 to 2007," MacKenzie Bourg chose the bittersweet ballad "Say Something" by A Great Big World for his Showcase Round song. We think it was a fantastic pick for his sweet and poignant vocal style. The American Idol judges were certainly pleased with his performance. Jennifer Lopez told MacKenzie that he was "very natural" on stage. Harry Connick Jr. thought he did a great job changing the melody, but "keeping the integrity" of the song. Keith Urban thought it was an excellent song choice as well.
Top 24 Semi-Finals Duet Round: Although MacKenzie Bourg and former American Idol runner-up Lauren Alaina seemed like a bit of an odd pairing for the Top 24 duets, they actually sounded fantastic together. Their rendition of "I Hope You Dance" by Lee Ann Womack wasn't the best duet of the Top 24, but it was a sweet and beautiful performance that left us wanting more. The judges agreed that it wasn't MacKenzie's most powerful performance, but they still all thought he did a good job even so. They also had a lot of fun teasing MacKenzie for how Lauren Alaina was flirting with him on stage!
Will MacKenzie Bourg make it through the next cut to be part of the American Idol 2016 Top 10? We'll bring you all the latest American Idol spoilers on the next round of the competition as they happen!