MacKenzie Bourg has risen and fallen in the fan favorite polls quite a few times over the past few weeks of American Idol 2016. I was hoping this would be one of the weeks he would rise and manage to make it through to the Top 4. Thankfully, America agreed and the artistic young singer got a chance to entertain us once again on stage this round.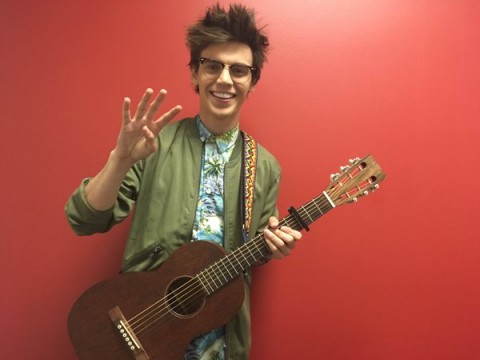 For his classic rock song choice this week, MacKenzie Bourg tackled "I Want You To Want Me" by Cheap Trick. Of course, MacKenzie changed up the song to match his style. Usually I like how he arranges his tunes, but this came across as a bit slow and tedious. Still, he is a lovely singer and always fun to listen to. The American Idol judges also seemed to feel the song arrangement just wasn't quite right this time around. Jennifer Lopez did not like how the song was "Mackenzie'd" and Keith Urban also disliked it as well. Harry Connick Jr. thought it was okay, but thought the performance lacked energy.
In his second performance of the night, MacKenzie Bourg took on one of Sia's most signature songs, "Titanium." There are few female vocalists who can truly do justice to this tune, but MacKenzie made the song work from him pretty well. I wouldn't say it was one of his best performances of the season, but so far I'm liking him better than rival Dalton Rapattoni tonight. The American Idol judges seemed to enjoy the song okay, but they weren't bowled over by it. Harry Connick Jr. thought it was a 'nice' performance. Keith Urban thought it showed MacKenzie off in a singer/songwriter kind of way and it was good he rode through the song. Jennifer Lopez said she was happy that Sia pushed MacKenzie with the performance.
What did you think about MacKenzie Bourg this week on American Idol 2016? Don't forget to cast your American Idol vote for who will make it to the finale!