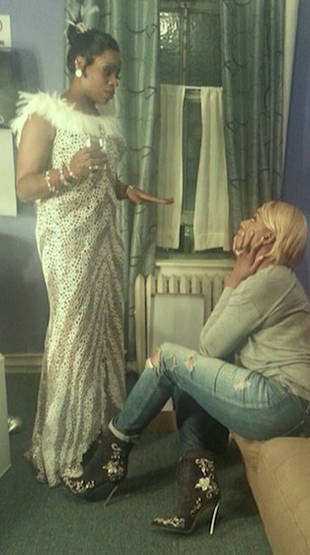 Divas have to watch out for each other! Former American Idol winner Fantasia Barrino may be an old hand at Broadway by now but that doesn't mean she doesn't need a little support now and then from her friends. Especially when those friends are fabulous ladies like NeNe Leakes from The Real Housewives of Atlanta!
Fantasia is currently appearing on Broadway in a jazz fueled musical revue titled After Midnight. The production has received rave reviews and was called "an exhilarating joyride" by the New York Daily News.
We aren't surprised that any Broadway show with Fantasia on board is smoking hot — after all, she gave a stellar performance as Celie in The Color Purple. Alas, Fantasia is only a guest star on the show and won't be with it for the production's entire run but she'll be on board until February 9, 2014.
NeNe visited with Fantasia backstage to give her some love before she went on stage. In the photo posted by NeNe on her official site, the Real Housewives star said she was "encouraging my sister Fantasia before she takes the Broadway stage in NYC #powerfulvoice."
NeNe Leakes and Fantasia Barrino have developed a history of mutual support and admiration over the past few years. NeNe interviewed Fantasia back in 2010 for 11 Alive Morning News and gave her a high five when the American Idol winner revealed she had gone back to school to get her G.E.D. Fantasia performed at NeNe's nuptials this past summer as a surprise for her wedding guests. The two are obviously tight!
Get a delicious taste of Fantasia in After Midnight in this awesome preview clip below: