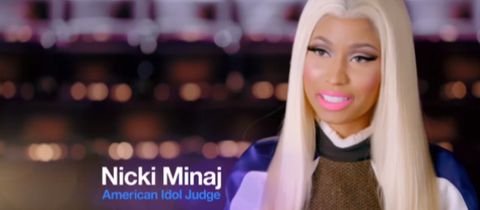 Forget that f-bomb dropping, "cornfields are raaaacist!" Nicki Minaj from two days ago. FOX is hear to present the new, calm, and rationale Nicki in their latest American Idol 2013 promo. Along with discussing the importance of finding a rising star in the process of the show she gets in a dig at the competition by saying no one will ever touch Idol's status.
I know FOX wants us to consider Minaj on the same level as past judges, but even the quick shot of her in the giant clown wig talking to the American Idol Hopefuls is hard to take seriously.
I'm still waiting to see how she does once the show gets rolling in January, but right now it's a little tough to buy the "Serious Nicki" persona. What do you think?