Despite being fired from American Idol back in June, former executive producer Nigel Lythgoe is pissed that The Voice won an Emmy Award before his former employers nabbed one. In a post to Twitter on Sunday night, Lythgoe said he was "shocked" that The Voice took home top prize when American Idol never won once despite multiple nominations.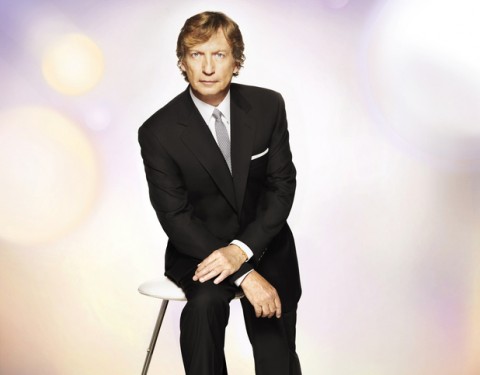 American Idol was nominated nine years in a row from 2003 to 2011 but never won the Emmy. The Voice has only been nominated the past two years, in 2012 and 2013, and won the award for Outstanding Reality-Competition Program for the first time on Sunday.
This marks the first time this Emmy Awards category has been won by any other show than The Amazing Race or Top Chef since it was originally debuted in 2003. The Voice has also landed several other big nominations and awards, including a Producer's Guild of America Award and two Critic's Choice Television Awards.
"Shocked that The Voice won," Nigel Lythgoe posted on Twitter after the Emmy Awards on Sunday. "Not so much for #SYTYCD but for #AmericanIdol. The first, the best and the program that changed the face of TV." Lythgoe added that he was "talking about over the 11 years American Idol changed the face of television across the world it didn't win an Emmy. Not just lately."
Lythgoe was let go from American Idol earlier this year but still serves as an executive producer for FOX's dance competition show So You Think You Can Dance. "Over the years so many shows deserved Emmys," Lythgoe continued on Twitter. "#Survivor, the best format of all. #AmericanIdol, changed the face of television viewing, DWTS."
Current American Idol producer Patrick Lynn was more gracious toward the show's rival series. He congratulated The Voice producers on Facebook for the Emmy Award win. "As much as we trash talk each other (which is always fun) I sincerely wish you all the best. It's great that a singing show took the Emmy this year and especially showed everyone that The Amazing Race won't always get it."