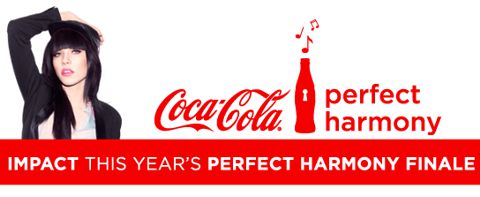 American Idol's "Perfect Harmony" campaign began as a promotional collaboration with Coca Cola.
The premise is asking for Idol fans' help in choosing the lyrics as well as performance elements of a brand new single.
The anticipated result is a boost for the popular reality show's sagging ratings for American Idol 2013 by engaging fans in the production process.
This season, American Idol has secured Grammy nominated singer/songwriter, Carly Rae Jepson. Carly Rae shot to fame in the U.S.A. with her hit single, "Call Me, Maybe". The song was wildly popular and put Carly Rae on the road to mega stardom in America. She credits her friend Justin Bieber with putting the song on U.S. fans' radar as well as every pop music radio station in the country.
Fans can vote on their favorite of 3 possible versions of the lyrics of the soon to be released single, "Take A Picture", as well as help influence dance moves, wardrobe, lighting effects and other elements of Carly Rae's performance on the American Idol 2013 finale scheduled for Wednesday, May 15, 2013.
This week, the second in the contest, offers viewers the chance to influence the music video portion and pick the setting of the song. The options? A photo shoot, downtown, or summer.
For specific details on how and when to vote for specific elements of Carly Rae Jepson's American Idol 2013 finale performance, check out Idol's page dedicated to the contest.
What do you think of the lyric choices? What would you like to hear and see in Carly Rae's live American Idol finale performance?