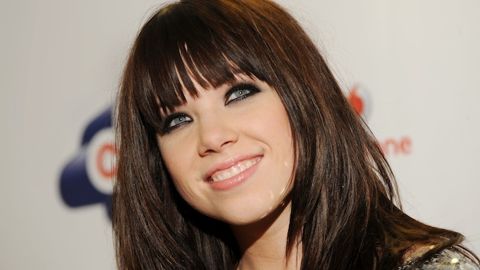 Hey, the Top 9 are performing, and this is crazy, but here's Carly Rae, you can help her, maybe. That was painful to type, but American Idol 2013 has paired up with the "Call Me Maybe" artist herself to create this season's "Perfect Harmony" song.
It's a unique opportunity, for the third straight season, to help form the season's song and watch it performed live as part of the Season 12 finale show on May 15, 2013.
The Coca-Cola Perfect Harmony program invites AMERICAN IDOL® fans and music lovers to participate in the once-in-a-lifetime opportunity to help chart-topping singer/songwriter and recording artist Carly Rae Jepsen select the best lyrics for a new song.

Fans can watch live as she performs the song during the first episode of the two-night AMERICAN IDOL® Season Finale on Wednesday, May 15 (8-9 p.m. ET live/PT tape-delayed) on FOX. Through Coca-Cola Perfect Harmony fans can take part in the songwriting process and influence the show they love.

In addition to assisting with the creation of the song, people will have the opportunity to impact various aspects of Jepsen's Perfect Harmony AMERICAN IDOL® Finale performance as well.
There are strict deadlines set for each of the eight phases in the project. Here is the schedule you'll need to follow. Find even more details at AmericanIdol.com.
Week 1: March 20 – Lyric Selection
Week 2: March 27 – Performance Theme
Week 3: April 3 – Lyric Selection
Week 4: April 10 – Performance Stage Effects
Week 5: April 17 – Lyric Selection
Week 6: April 24 – Backup Dancers' Wardrobe
Week 7: May 1 – Final Lyric Selection
Week 8: May 8 – Instruments to Spotlight
Source: American Idol press release