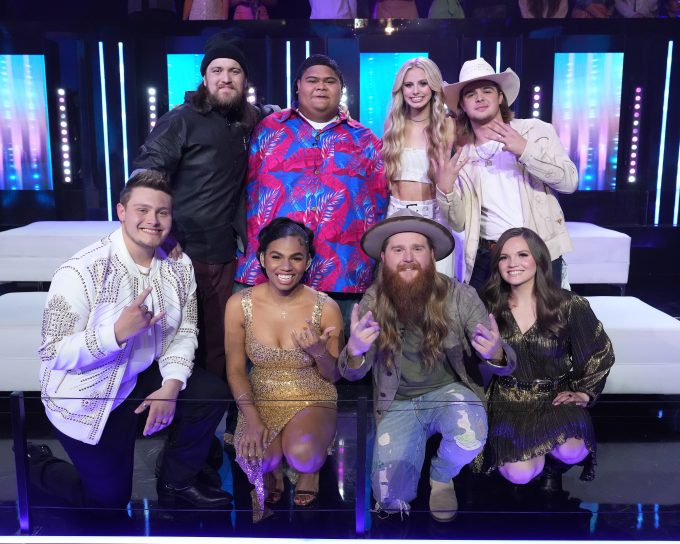 On Sunday's American Idol 21 episode, the Top 8 will become the Top 5 finalists. This means that we'll watch three more contestants be eliminated live. The American Idol 2023 producers have been committed to the idea of adding extra contestants to the mix this year, so I wouldn't be surprised if the final five turn into the final four Idol contestants. 
 For now, let's assume that Ryan Seacrest won't announce that someone will be saved by the judges. Let's assume that at the end of the night on Sunday, there will only be five Idol hopefuls left. Despite American Idol 21 having contestants perform live for votes, it seems that most fans already have their favorites.
The performances matter some but the passionate dedication to one American Idol contestant or another matter the most. Therefore, you can kind of predict who will likely be leaving each week. Therefore, I want to try to predict who will make it into the Top 5 ahead of the next episode. 
I believe that Iam Tongi is almost a guaranteed spot in the Top 5. He's universally loved, has a bit of a TikTok following, and he's also super talented so he more than deserves his dedicated fans. Wè Ani has been performing amazingly all season. I would be completely shocked if she doesn't make it into the Top 5. Megan Danielle has also been giving pretty good performances. Wè Ani and Megan Danielle also competed on The Voice and made it pretty far. This means that they likely have a fan base from their experience on their seasons of The Voice. This means that this could help secure their spots in the Top 5.
Now the other two spots may come down to their performances, but I believe Colin Stough is pretty much locked into the Top 5. He's very popular and has a great country sound. He also has a likability that many American Idol 2023 fans have been gravitating towards. I think Zachariah Smith also may take the other spot in the Top 5 because he's also very liked by the fans. He also brings something different with his high-energy performances. 
Haven Madison could also sneak a spot into the Top 5. She's very talented and really liked by fans, but I think it'll depend on her performance during this Sunday's episode. Warren Peay is a very seasoned country singer, so his song choice may also determine his fate. If America decides to only save one male country singer, Colin has a slight edge because of his popularity. 
As we saw with Lucy Love and Nutsa, when America decides it's your time to go, they don't really change their minds. Oliver Steele was technically already eliminated. Therefore, I would be shocked if he gets enough votes to stay this week. However, Oliver could pull it off because he's a really good singer and brings something unique as well to the Idol stage. 
I believe Iam, Megan, and Wè Ani are for sure in the Top 5. I think that Colin and Zachariah are also likely taking the final two spots. This would result in Haven, Warren, and Oliver's eliminations. However, I do think performances and song choices will influence some of the voter's decisions, which could mean a different final five contestants then I predict.
Let us know who you think will make the American Idol 2023 Top 5 by voting in the poll below and in the comment section.
Join us Sunday for another American Idol recap. We'll watch as the Top 8 gets down to the Top 5. It'll also include Ed Sheeran and Alanis Morissette filling in for Katy Perry and Lionel Richie. Make sure to add us on Facebook and Twitter for more American Idol spoilers, recaps, exclusives, and much more.